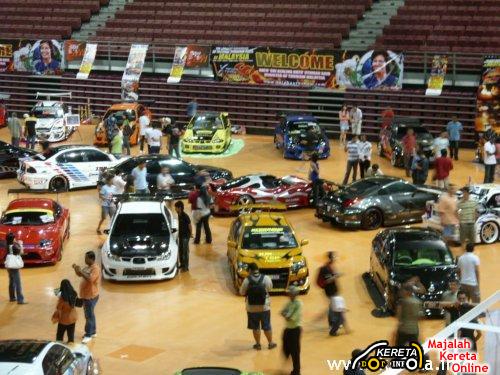 Today, we have visited International Extreme Modified Cars Autoshow at Stadium Putra Bukit Jalil. We arrived there around 11 am and see a lot of cars outside the stadium. Outside of the stadium are tom's stickers, unda steer, Waja cars, ultra racing and some other car related company's booth.
INTERNATIONAL EXTREME MODIFIED CARS AUTOSHOW AT STADIUM PUTRA BUKIT JALIL
To enter the stadium putra where a lot of modified cars are presented, we need to pay RM28 for entry ticket. For me, it is quite expensive because what they showed there are actually not so many cars and most of them are malaysian and normal cars like Proton and Perodua. I actually expecting for many international cars from outside but unfortunately not so many.
All the super cars and extreme cars we already seen online and at some other magazine. But they do have something to impress visitor there. The most outstanding cars is the heavily modified perodua Kancil, sound system of a truck & Audi TT police car.
Another thing that they should do is venting out all the smoke from exhibitor's car out of the stadium. I just saw only one car doing it and the others freely let their engine on in the stadium which let the smoke fill up the stadium and this is not good for the visitor.
(ultra racing frame under an Imprezza)
However, i believe that they have put their full effort in making this event successful. But we hope there are a lot more cars and a much more interesting event during autoshow next time.
(modified waja)
With this post we attached some of the picture of modified cars exhibition and we will let you enjoy the other cars in our next daily post. Below are the title of articles regarding the picture of international extreme autoshow that will be shared soon:
PROTON WIRA & SATRIA MODIFIED CARS
PERODUA MYVI EXTREME CUSTOM BODYKIT MODIFICATION PICTURES
MODIFIED MITSUBISHI LANCER GT/ EVO X
AUDI TT POLICE CAR
HEAVILY MODIFIED PERODUA KANCIL
MODIFIED CUSTOM PICKUP TRUCK MPV SUV
NICE MODIFIED INTERIOR AND POWERFUL AUDIO SOUND SYSTEM
CAR STICKERS AND AIRBRUSH
MODIFIED TOYOTA VIOS
MODIFIED BMW
NISSAN FAIRLADY 350Z
Please follow and like us: