There are some pickup truck, mpv and suv displayed at extreme autoshow with heavily modified exterior and interior. Most of them put some spice of audio system which is very spicy when you heard them. You dont need a cinema to entertain yourself. Just start your engine and watch the big screen with the superb audio system in you vehicle. Seriously, they impressed all the visitors with their audio system. During the modified car exhibition. the venue at Stadium Putra don't have to switch on their music or PA system to entertain visitors. It is enough by having a few pickup truck, suv or mpv around to cheer the event.
PICTURE OF CUSTOM MODIFIED TRUCK / MPV / SUV
This green Hyundai TRAJET MPV is fitted with audio system.
Toyota Hilux pickup truck with the lcd screen and audio system at the back of its storage area.
This hummer H2 wannabe came from Indonesia and located at the entrance of the autoshow. Before this, the colour of this SUV is white which i think is better. But now the colour have changed to striking colourful paint job. You can see the VERY BIG lcd screen on the roof that can be opened.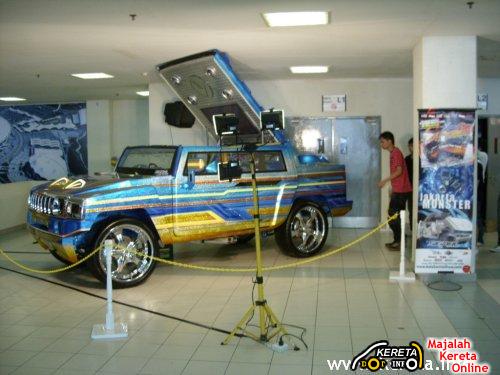 Can you imagine if the roof suddenly opened during cruising? What will happen? Aha.. It also acts as a spoiler is it? or a wing? hmm.. hu2..
This MPV have the most powerful audio system in the event. With speaker installed at the front of the engine bay.
More speakers at the door panel and interior of the MPV.
Full of spekers! Hope that they know how to take care of their car well when parking outside so that people dont have a chance to steel those expensive speakers and sub woofers.
Please follow and like us: