As promissed, we will start to publish a series of modified car picture of Blaze Motorsport team which most of them has a really brilliant idea on how to modify a car properly and extremely. So we are glad to share to all KDI readers the photoshoot session with blaze motorsport members starts with Blaze's Mr President, Mr Kevin.
EXTREME MODIFIED ISWARA – KEVIN BLAZE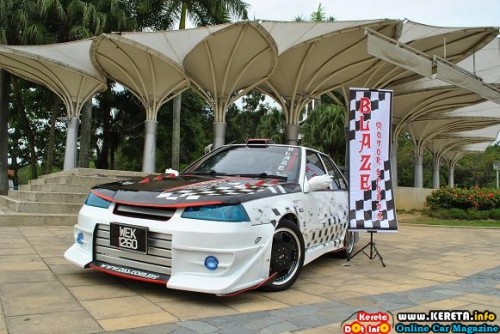 Proton Iswara, may look very simple usually but this one, I have to "tabik spring" to his owner, Mr Kevin because he has successfully transformed his ordinary Proton Iswara to a better and impressive look as a modified car. I really never had an imagination about how to make an Iswara as good as Kevin's ride. And now i can imagine how good an Iswara can be.
This special modified Iswara have a custom bonnet or hood which is protruding forward and at the same time acts as the eyelid of the lamp. Red lining makes this Iswara looks more fierce. Custom side mirror is another extreme ideas by team blaze.
Checkered sticker is simple yet nice to look. Bigger rims always attracts the eyes of people plus the black finishing on the center rims and chrome lining .
The interior during the photshoot session is still under modification so we don't have the last modified interior picture. But with simple red and black interior concept, i believe the final images should be great.
The GT Wing seems to be fit into this Iswara. It is not too much or over modified. Basic audio system with two subwoofer and woofer box properly wrapped.
The engine bay, decorated nicely with airbrush on the air intake vent. Modified engine with mitsubishi powerplant and the pivot raizin voltage stabilizer.
Proud owner of extremely modified Proton Iswara, Mr Kevin from Blaze Motorsport.
Please follow and like us: