We have shown you the rendering of neo modified by photoshop before and now, it is the time to see real  extreme modification on a Malaysian sports car, the modified extreme satria neo. Neo is really a sporty look compact car which has a better performance and handling especially the new neo cps. But i personally think that the custom modified neo is more gorgeous. just take a look at the pictures.
EXTREME CUSTOM MODIFIED PROTON SATRIA NEO BODYKIT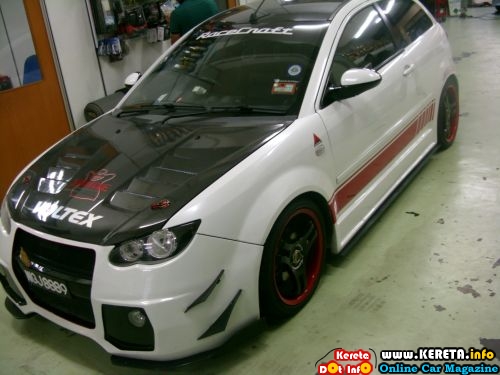 This is satria neo modified version that i found at my friend's audio workshop, bro Kenny and Ah Seng at Shah Alam. This white modified satria neo has extreme design concept of front bumper which has the genetic of Audi SUV. With simple red stripe and worth thousand ringgit of carbon fiber hood, it looks really amazing.
The rear design has the genetic of Ferrari extreme custom bumper.
This is the all black glossy finishing with front custom bumper which has a bigger grille.
And this one is a rare matte black satria neo or flat black painted neo with orange trimming on the skirting, side mirror and spoiler. looks nice.. really nice..
This one is a purple finishing with fairlady look alike bumper..
And… this modified satria neo with custom bumper and custom stickers looks really like a fairlady 350z. I think this one is the best modified neo i've ever seen. with wider wide bodykit, really attract the eyes of the car enthusiasts. It has a very nice stripe.
Last but not least.. like usual.. the neolution.. But this one i think better than the image rendering of neolution previously.
Please follow and like us: