There are a lot of extremely nice latest design of LED tail lamp with the price starts as cheap as RM200 up to Rm500 for most of cars in Malaysia. Here we share latest new LED tail lamp for Proton cars like Wira tail lamp, Iswara, Saga BLM, persona, Gen2, Waja and Perdana led tail lights.
LATEST DESIGN LED TAIL LAMP PROTON LIGHTS
latest design of waja tail lights LED.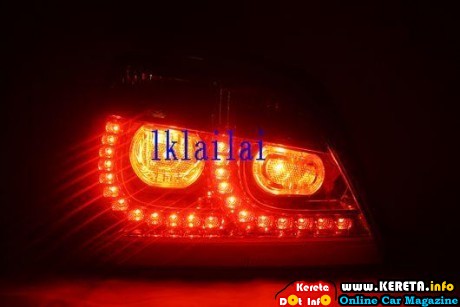 This is my favourite design, the Waja LED tail lamp golf GTI design
 Saga BLM LED tail lamp. (lampu belakang saga)
For RM200++, this is worth for gen2 and persona owners. very niiiiceee… LED tail lights. The most extreme looks at night with the LED arrangement.
This is the latest Perdana taillamp with GCI light bar ccfl as night lamp which looks like BMW 7 series design and it has LED tail light brake light also.
 Proton Saga ISwara led tail lamp.
Proton Wira LED tail lamp with light bar
Please follow and like us: