Spit Fire exhaust is one of the attraction on the Rozar "Ghost Rider" Proton Wira modified version which is owned by Mr Raj from Rozar Motorsports. the car is nicely modified to the extreme level which include the RM4000 air brush art on each of its body surface.
Raj with his HOT ride. 
The spit fire demonstration.
[youtube:http://www.youtube.com/watch?v=DLRiynTwK1E 425 344]
Audio system demonstration. Sound system cost is around RM6000
[youtube:http://www.youtube.com/watch?v=9BtqaeaM7OI 425 344]
The extreme high custom GT wing at the rear bonnet.
He uses 17″ VIP sport rims to impress car enthusiasts with wide lips and40 series tyres.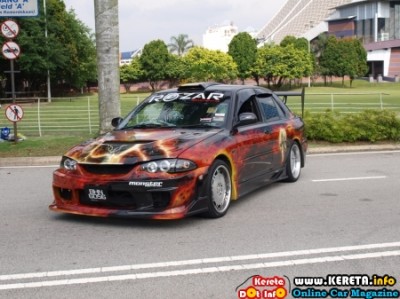 Total modification cost is around RM15,000. With projector headlamp for wira, custom front bumper , rear bumper, Voltex side skirting, hood scoop, audio and spit fire system.
 For more info about rozar, go to http://kereta.info/rozar-motorsports-car-club/
Please follow and like us: