On 12 June 2010, we have the opportunity to meet the Rozar Motorsports Members with their fantastic ride and a photoshoot session held at our usual spot which is Dataran Shah Alam. 9 Rozar cars attended the photoshoot session. For those who are interested in Rozar Motorsports Club, below are the details. We will update the picture of individual Rozar member's modified car.
ROZAR MOTORSPORTS CAR CLUB
Perlembagaan Kelab Rozar Motorsports
1.  NAMA
Kelab ini dikenali sebagai Kelab ROZAR MOTORSPORTS club atau ringkasnya rozar club di dalam Perlembagaan ini.
2.  OBJEKTIF DAN MATLAMAT 
2.1  Untuk menggalakkan dan membangunkan sukan bermotor di peringkat kelab.
2.2  Untuk mengekalkan hubungan baik dan kedudukan baik dengan semua badan pengelola dan pengawalseliaan daerah, negeri dan kebangsaan.
2.3  Untuk memastikan bahawa Perlembagaan dan kaedah-kaedah Kelab dipatuhi dan diikuti oleh semua ahli.
2.4  Untuk menjalankan aktiviti tanpa diskriminasi tentang jantina, ras, warna kulit, agama, asal-usul, bahasa, kecenderungan politik atau apa-apa pandangan lain yang dipegang oleh anggota.
2.5  Untuk memastikan akaun teraudit sepenuhnya serta laporan tentang segala aktiviti, penggunaan dan perbelanjaan semua wangnya bagi tahun kewangan Kelab yang sebelumnya , dikemukakan kepada Pesuruhjaya Sukan berserta dengan apa-apa laporan lain yang dikehendaki oleh Pesurujaya Sukan.
2.6  Untuk memastikan prosedur pemilihan bagi ahli sukan, pegawai, jurulatih dan mana-mana orang lain untuk mewakili Kelab dalam sukan bermotor adalah terbuka dan adil.
2.7  Untuk mewakili Kelab dalam mana-mana pertandingan sukan bermotor.
2.8  Menjalankan sebarang kegiatan amal atau sebarang jenis perniagaan untuk tujuan menambah kewangan Kelab, asalkan tidak bercanggah dengan undang-undang Negara.
2.9  Semua wang keuntungan yang diodapati oleh Kelab daripada penyertaannya dalam mana-mana perniagaan atau pelaburan akan digunakan semata-mata untuk melanjutkan, memajuakn dan menjalankan objektif dan matlamat Kelab Rozar ini. Sungguhpun begitu, peruntukan ini tidak menghalang sebarang pembayaran yang dibuat dengan tujuan baik untuk membayar gaji atau perbelanjaan atau kedua-duanya kepada sebarang ahli atau pekerja kelab ini. Kelab Rozar ini juga boleh menubuhkan Badan Perniagaan dan boleh memiliki harta benda dengan syarat keuntungan hendak lah dimasukan dalam Tabung Kewangan Kelab.
3.  LOGO / LAMBANG       
Logo/lambang Kelab ROZAR ini adalah bermakna "Revolution Of Zeal And Riders".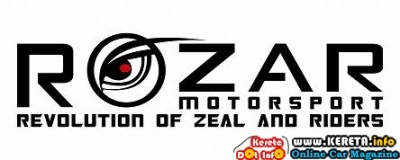 Kereta
WHR 753 Rozar Transfomer
BEJ 9135 Rozar Green Monster
WPW 5793 Rozar Red Line
WQS 9082 Rozar Baby Monster
BHN 6056 Rozar Ghost Rider
WSV 8743
BJY 5867 Rozar Spidey
WSN 7655 Rozar Mista JJ
ACV 9096 Rozar Phoenix
Those who want to join Rozar Motorsport pls Call:-
Suman (President) 016 600 0604
Nillal Raj (Vice President) 010 250 9557
Please follow and like us: