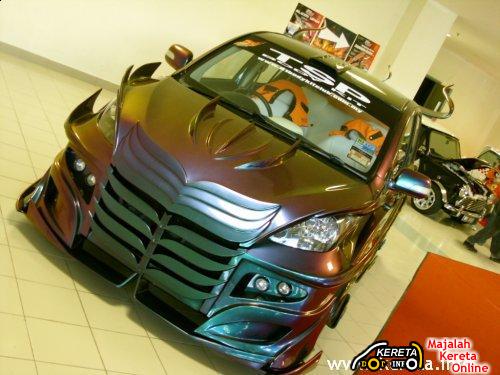 What a very weird car there! This is the Perodua Myvi with very strange alien or some type of weird animal design. Uh! What do you think? is it beautiful or ugly car? Or maybe you want to appreciate this kinda exterior bodykit modification.
So here we are going to share some PERODUA MYVI EXTREME CUSTOM BODYKIT MODIFICATION PICTURES during extreme autoshow event. Check it out!
I like this myvi sport rim design. The colour of this myvi is the mixed type paint job.
As you can see, this car owner is under b1bodykitclub. I dont think there is other people using the spoiler like this in this world.
This modification on perodua myvi is better with the suzuki swift look alike bodykit. With diffuser and front bumper spoiler.
At the back, it has a simple but stylish touch up on its rear bumper with two exhaust, rear door/ bonnet for toyota passo and a simple small GT wing.
Looking at the plate number, this is actually a new car bought in 2008! Oh! i wouldn't do this to my new car. Fully painted with airbrush design.
Another better look for perodua myvi bodykit with myvi eyelips and custom engine hood plus air intake scoops. Very nice modification on perodua myvi.
Please follow and like us: