2010 HYUNDAI TUCSON LIMITED FWD
Another great Hyundai product.  And another reminder of how Hyundai is breathing heavily down Toyota's neck. The Hyundai Tucson is yet another example of the new vehicles coming out of Korea that are giving Japanese (and American, and European) manufacturers some stiff competition in the value-for-money equation.
Standard Equipment:
2.4-liter 4-cylinder engine
6-speed automatic transmission
Electronic stability control
Traction control system
Active front head restraints
Tire pressure monitor system
Electric power steering
18-inch wheels
Dual zone automatic climate control
AM/FM/CD/MP3 audio system
iPod/USB/Aux input jacks
XM satellite radio
Bluetooth connectivity
Steering wheel audio and cruise controls
Heated front seats
Heated power mirrors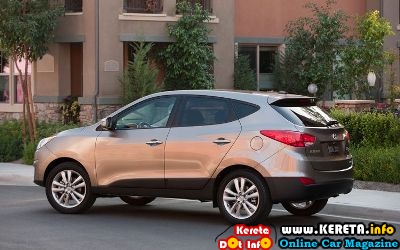 The Tucson's interior, rich materials and excellent panel fits in this modern, fresh, well-designed, high-quality cabin with great ergonomics.
2011 ALFA ROMEO GIULIETTA
Good news for fans of Alfa Romeo Giulietta, this car will be present in the new version and was released in early May. The sporty-looking Giulietta introduces an entirely new platform called "Compact" that will underpin a variety of Fiat and Chrysler Group cars in the near future.
The new Alfa Romeo Giulietta is available exclusively as a five-door hatchback, Alfa Romeo's replacement for the 147 is 4.35 meters long, 1.46 meters tall and 1.80 meters wide, with a wheelbase of 2.63 meters, with Alfa claiming that it features a boot capacity of 350 liters. The Giulietta will be available in two trim levels -Progression and Distinctive- along with two optional packages, Sport and Premium.
The engine of new 2011 Alfa Romeo Giulietta need the initial petrol range includes the 120HP 1.4-liter TB and 170HP 1.4-liter TB Multiair, while the diesel lineup comprises of the 105HP 1.6-liter JTDM and 170HP 2.0-liter JTDM. Later in the year, Alfa Romeo will cater to the needs of enthusiasts with the presentation of a 1.75-liter TBi turbocharged four-pot with direct injection producing 235HP and 340Nm of peak torque .
In addition, there is also a Quadrifoglio Verde trim specification that will be offered exclusively on the flagship 235HP 1750 TBi model. This version will be distinguished by a lowered ride height (15 mm at the front and 10 mm at the rear), 17- or optionally 18-inch alloy wheels, an enhanced braking system with calipers painted Alfa red, and specially trimmed interior.
Please follow and like us: