SMART FORTWO BATMOBILE ON SALE IN EBAY
If you remembered, somewhere last year, KDI posted a topic on Batmobile on sales in ebay .That was amazing but it is just to huge to be driven everyday in your neighbourhood. But if you still insist on buying a Batmobile there's an option for you. The Smart Fortwo batmobile.
Back to reality, you wont even see a Smart Fortwo in any Batman series. Even if there is, it wont be driven by Batman. Can you imagine that?A Dark Knight in a small petite car?Quite funny though. But who cares. The Smart Fortwo is unique by itself.And compared to the 'Tumbler', you'll get in the parking spot much faster than Batman ;)
About the car, The Smart Fortwo was built by Harley Motorsport. To get as realistic as possible, they asked a little favour from the creator of the 1966 Batmobile, George Barris.
After the modification is done, they name the car Batsmart.Seriously, its sound geeky to me.
The one and only Batsmart was featured at the last year's SEMA show in Las Vegas. From the picture itself, we can say that it shared a lot of the 66 Batmobile genetics.The most significant similarity is the roof-mounted bat-wings. Black is the colour of choice as we can see in all Batmobile. And in case if you're in a rush, there is a 'turbine' at the back to help you travel faster and a parachute to stop you in time.Oh, did i tell you that it is just a fake one?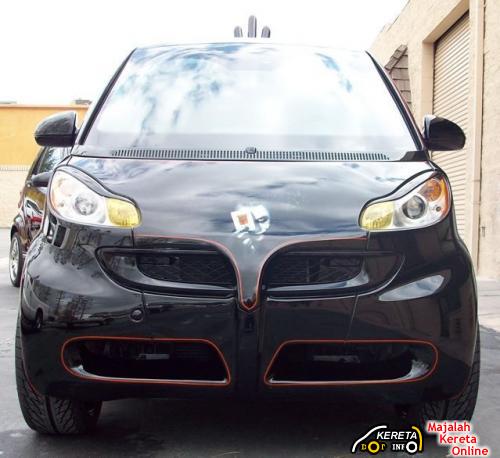 Now the Batsmart is selling in ebay and currently the highest bid is US$16,100.But that the price is still lower than the expected price.So its up to Harley Motorsports to decide the final price. And for the records, the catwoman comes optional. ;)
Please follow and like us: