A very cool gadget, which lets you charge your handphone or any electronic devices such as digital camera, ipad or any player by using solar cell. The cost only between RM30-RM100 and you'll get a battery which will self charging to full by the sun light and can transfer the charge to your device. This stuff also have a torch light that can be used during emergency. It can be charged through USB port too. Below are some specification of different portable mobile solar panel charger.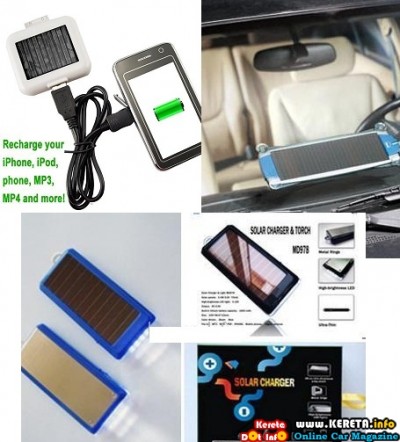 CAR GADGET : PORTABLE SOLAR CHARGER FOR PHONES AND ELECTRONIC DEVICES
SOLAR CHARGER 1
Solar Power Charger for cell phone Camera PDA MP3 MP4 (MD978)
This solar charger has a built-in 1500mAh battery. When fully charged, it will be able to recharge PDA, GPS, MP3 player, video player and camera etc. Built-in green LED shows charging status.
Features:  
High efficiency solar conversion: over than 15%
Solar panel : 5.5V/70MA
AHigh capacity build in polymer battery: 1500mAH
Output voltage:5.5v±0.2v
Output current: 400mA-800MA
Solar charging: about 10-15 hours
Charging with AC adapter or USB: about 5 hours
Black color
Three ways to charge the battery
By using the built-in solar panel
By using USB charging cable and charge from USB port on a computer
By using USB charging cable and included USB AC adapter and charge from the wall outlet
Fits for:Mobile Phone, Digital Camera, PDA, MP3, MP4
SOLAR CHARGER 2
New Portable Mutil-Purpose Solar Panel Battery Power Charger
High Capacity 2600mAh
Condition: BRAND NEW
Compatible with: Blackberry, Motorola, Nokia, Samsung, Sony Ericsson, PlayStation Portable (PSP), Mini-USB devices
Product Feature:
Extra-efficient solar panels for a rapid charge
Built-in 2600mAh rechargeable Li-ion battery
Lightweight and portable
Can be use as Torch Light during emergency.
 
Product Specification:
Solar Panel(mono or multi-crystalline): 5.5V/80mA
PC USB charging: 5V/500mA
Li-ion rechargeable Battery: 3.7V/2600mAh
Output voltage/current: 5.5V/500mA
Super long standby time,current consumption: <140uA
Protection: Reverse current protection circuit integrated to prevent batteries from being discharged
Constant Volts: 4.2Volts
 
compatible with:
Nokia
Motorola
Samsung
Sony Ericsson
Sony PlayStation Portable (PSP)
mini USB devices
not compatible with iphone,
SOLAR CHARGER 3
 RM70
Solar Battery Charger for iPhones, iPods, and USB Devices lets you charge your electronic gadgets anytime and anywhere.
If you own a cell phone, then you have probably experienced the panic of trying to make an important call before the battery dies and the frustration of missing calls because your phone has no power. Now, with this ultra-portable solar battery charger, you will never have to worry about running out of power again.
What kinds of devices does this solar battery charger work with? Iphones, iPods, and anything that charges through USB, such as cell phones, MP3 and MP4 players, and even GPS devices! Use the iPhone/iPod charging port to charge up your Apple devices, or the USB port on all your other gadgets. You will love the convenience of being able to charge all your electrical devices any time you want, anywhere you go.
Using this universal solar charger just couldn't be easier. Before you go out, you can charge the battery in one of three ways: by connecting to your PC via USB cable, through an electrical socket with a USB-AC adapter, or by collecting solar energy with the device's solar panel. Charge it with your computer while you're at work, and stick it in your dashboard while you're driving. No matter how you charge it, this universal solar charger will be ready when you need to charge your phone or MP3 player.
Everyday functionality, attractive design, and ease of use make this portable universal solar charger great for consumers and resellers alike. Stocked in our warehouse for immediate order fulfillment and worldwide shipping to any destination whether it's you or your customer. From the leader in factory-direct high tech gadgets.
 At a Glance…
Solar battery charger for portable electronics
Charge iPhones and iPods
Charge phones, MP3 players, MP4 players, and any gadgets that use USB
Charges quickly and stores a charge in internal battery
Fashionable, ultra-portable design
Manufacturer Specifications
Main Function: Battery charger for portable electronics with solar panel for recharging
Battery
– Type: Li-ion polymer battery
– Capacity: 1350 mAH
– Full Charge Time: 2.5 hours AC power, 7.5 hours solar
– Working Temperatures: -10 deg C to +50deg C
Power Output Ports: 2 (one for iPhone/iPod, one USB)
Dimensions: 63mm x 62mm x 22mm (L x W x D)
Certifications: CE, RoHS
Manufacturer Ref: MX6JX2FGV9
Product Notes
Built-in standard USB connection – charges any USB powered device
Standard iPhone/iPod connection
Package Contents
Model CVHF-G54 Universal Solar Charger
USB Cable (male to male)
FAQ – Frequently Asked Questions
What kind of devices can I charge with this universal solar charger?
You can charge iPhones and iPods as well as any device that can charge through USB, such as cell phones, MP3 and MP4 players, and numerous other gadgets.
Is this device a battery or just a charger?
This is also a battery. You can charge it up through USB or the solar panel, and it will store the charge.
How do I turn it on or off?
There is a button behind the word "Light." You can't see it, but you can hear it click when you press it.
Please follow and like us: