BMW UNLEASH THE LATEST ADDITIONS OF THE BMW M DIVISION – THE X5 M AND THE X6 M
M series of BMW had always been one of our 'Things to buy list'. Well if its not in any average Joe's list, it is sure in my list.And to add up the never fulfilled list, Bmw had introduced us with the latest addition in ther M division the 'evil twins' of the Bmw X5 and Bmw X6.After at least a year of speculation and spying, they had finally revealed the overall detail of the cars. From the the engine used to the styling of the car or more precised suv.
The evil twin is fitted with a newly-developed 4.4-litre twin-turbo V8 producing a maximum power of 555bhp at 6,000 rpm and a maximum torque of 500 lb-ft (678Nm) between a very broad range of rpm, 1,500 to 5'650 rpm. The twin turbo brings 1.5 bar of boost pressure to the engine.
 BMW X5 M INTERIOR
For the first time, the Twin turbo V8 is mated to a 6-speed M Sports Automatic transmission with full automatic mode as well as M driving mode. The gears can be shifted using the gear lever or the paddle shifter right behind the steering wheel.An the best part, the driver can rev the engine up to the redline without any interference of the car system.This is also useful for the launch control function.With xDrive AWD the car will sprint from 0-60mph (0-96kmh) in just 4.5 secinds. There was no top speed figures but it is safe to assume an electronically limited figure of 155mph (250km/h)
For the exterior, the wheel of choice is a 20-inch alloy and tyres are the runflat types with sizes 275/40 R 20 at the front and 315/35 R 20 at the rear.Features include ABS brakes, trailer stability control, Servotronic steering, an electronic parking brake with autohold and hill descent control. Other nice stuff includes rain sensors, cruise control, iDrive, adaptive xenon headlights and rear view cameras.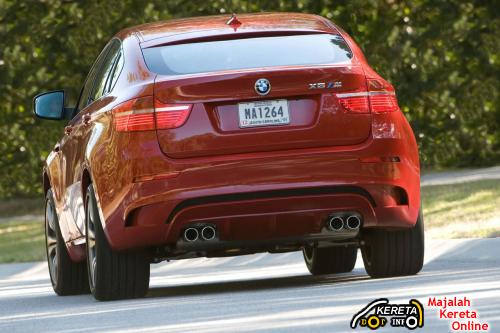 The Dynamic Performance Control system found in the X6 is now available in the X5 as well.Working together with xDrive it keeps the vehicle stable and maintain grip to a maximum. With a weight distribution ratio of close on 50:50 these twins are already well-balanced for performance.
BMW X6 M INTERIOR
Please follow and like us: