More Details on 900hp WEBER SPORTCARS faster one
WEBER SPORTSCARS goes for Veyron with 400km/h faster one
Chocolate and cheese? Please! These Swiss ain't just about that, no sire they are not. The Swiss, let me tell you, are all about taking on Germans, Americans, French and Italians in building the most ridiculously fast hypercar since that 408km/h (253mph) legend we all know about, the Bugatti Veyron. Constructed from carbon fiber – what else – and putting on a figure of 1,100kg (2,425 lbs), the car could be put on a bathroom scale and not break the thing.
Jokes aside, WEBER SPORTCARS is quite serious about creating something special from that side of the Alps, something called faster one, which we'll now establish exactly how fast. Endowed with LS7 aka 7.0-litre engine, WEBER went twice as charged by attaching two superchargers to its V8 challenger, resulting in a healthy 900 hp/ 662.4kW and 1050Nm of torque being thrusted via all four wheels (285/25 ZR 20 front and 325/25 ZR 20 rear) to alarming speeds.
WORLD's FASTEST CAR – FASTER ONE BY WEBER SPORTSCARS – 0-100KMH IN 2.5 SECONDS – TOP SPEED 420KMH 900BHP!
WEBER SPORTCARS is adamant that faster one will bolt forth from a standstill position to 100km/h (62mph) in about 2.5 seconds, 0 – 200km/h (124mph) in about 6.6 seconds and 0 – 300km/h (186mph) in 16.2 seconds. A top speed of over 420km/h (249mph) is expected. Retail prices start at 1,620,000 Swiss Francs (export price excluding VAT).
If your neighbor swans around bragging about his 253mph Bugatti Veyron, then this Swiss supercar might be just what you need to wipe the smile off his face, because the world's got a new contender for the fastest road-legal car. The crudely-named "Faster One" from Weber Sports might not have the Bugatti's dashing good looks, but if you ever found enough straight road to give them both a gumboot full, the Faster One's claimed top speed of 260mph (420kmh) would see it crawl away from both the Veyron and the SSC Ultimate Aero.
With only 900hp to the Veyron's 1001, the Faster One lives up to its name by virtue of its superior aerodynamics – which appear to have been achieved partially through a boisterous application of the ugly stick. The price of ultimate velocity? A little over US$1.5 million.
There is a school of design that expounds a philosophy that anything that is designed to perform its purpose to the absolute peak of efficiency is beautiful, and that anything designed primarily to be aesthetically pleasing is inherently ugly for the fact. If that thinking resonates with you, then you won't find this Swiss supercar as hard to look at as the average person might, because its unique looks are one of the key design features that make it the world's fastest road-legal automobile.
Super-smooth and slippery, every panel on the 115cm-high Weber Sportcars Faster One is designed for the perfect blend of crushing downforce and total directional stability when it's covering the length of a football pitch every second. The bonnet is flared over the wheels and dipped in the center, creating a v-shaped air wedge over the vehicle, and it slopes gently up to the flush-mounted windshield to press the front axle firmly down on the road. Even the windscreen wiper gets in on the aerodynamics, sitting vertically against the windshield at rest to present the smallest possible profile.
There are no door handles on the Faster One – they'd be just another thing to catch the breeze. A motorcycle journalist once mentioned he'd consistently get 1mph higher top-speed measurement if he took the knee sliders off his leathers, and he was going 120kmh slower than the Faster One is capable of. Instead of door handles, the Lambo-style switchblade doors tilt upwards at the press of a button. The underside of the car is finished with the same attention to aeros – perfectly smoothly, with a curved, venturi tunnel at the rear up to where the twin exhausts exit.
Like the Veyron, the Faster One features an electronically activated spoiler wing. When the gas pedal's down, it's angled to provide maximal downforce, but at very high speeds, it flicks up to a fully vertical position in a 20th of a second when the driver hits the brakes, providing a staggering 4,000 newtons of air braking without building any heat at all in the discs or tyres.
It's also an exceptionally light car, at 1100kg, which helps its incredible acceleration rate and power-to-weight ratio. The entire aluminum frame of the Faster One weighs only 65kg, and yet the torsional rigidity of the design is such that it flexes only 1 degree under a force of 30 metric tons. In order to perfect the weight distribution of the car, its fuel tank has been split into four and located around the vehicle.
Even with class-leading aerodynamics and ultra-low weight, a car needs a very special engine to get anywhere near 420kmh. In the Weber's case this means a 7.0 liter V8 with a dry-sump oil system and a belt-driven 1.0 bar supercharger for each of the two cylinder banks. It's fed through a custom-developed high performance injection system by Magneti Marelli, which offers a set of different injection mapping options accessible through buttons on the Playstation-style steering wheel.
The sequential six-speed paddle transmission sends the engine's 900-odd horsepower to all four wheels, with a custom all-wheel-drive system determining the power distribution for maximum traction. Up to 36% of the total power output can be sent to the front wheels, depending on conditions. The transmission is racecar-slick, with 50-millisecond shift times between gears – it's also been designed with durability in mind, which can't have been easy given the prodigious 1050 Nm of peak torque it has to deal with.
An active traction control system helps the Faster One destroy just about anything at the traffic lights; it hits 100kmh in 2.5 seconds, 200kmh in 6.6 seconds and 300kmh in just 16.2 seconds. Braking is almost as impressive – 12-piston calipers on four 380×34mm ceramic rotors, naturally with ABS, can bring the Faster One to a dead stop from 100kmh in just 30 meters. Then it's time to spoon your eyeballs back into their sockets.
The Weber won't be anywhere near as comfortable and refined as the Bugatti – and it cares not a whit, as evidenced by the fact that there's an option to throw out the leather trim seats for carbon-fibre competition benches with 6-point safety harnesses.
There's no practical need for a car like this. There's very little practical need for a roadcar that does a third of what the Faster One is capable of. And that's why machines like this need to be celebrated; they represent the same thing a Swiss watch does – sheer engineering perfection, sheer functional focus and the conquering of insurmountable technical and physical challenges, to hell with the price. And the Weber Sportcars Faster One certainly has a price: 1.6 million Swiss Francs, or just over US$1.5 million, which is a good US$300,000 more than a Veyron owner shells out.
If for nothing else, the Faster One deserves serious credit for making the Bugatti look like it has compromised top speed for its pretty looks.
In addition to the high-tech air brake WEBER SPORTCARS selected only the best of the best when it came to designing a brake controlled by a high-tech ABS anti-locking system. WEBER SPORTCARS produced its own 12-piston fixed calipers that viciously grab vented ceramic disc brakes measuring 380 x 34 millimeters on front and rear axle. These brakes can bring the two-seater to a stop from 100 km/h in short 30 meters or so.
The two-seater cockpit of the WEBER SPORTCARS faster one with integrated safety cell combines purebred carbon-fiber and leather racing looks with the creature comforts nowadays associated with a super sports car. Customers can freely choose their favorite color combination.
The Formula 1 style steering wheel is another in-house development. It incorporates controls for engine mapping and traction control system as well as shift paddles for the sequential gearbox.
Among the comfort features present are power steering, climate control system, power windows and a sound system with integrated navigation system. A rearview camera facilitates maneuvering in reverse.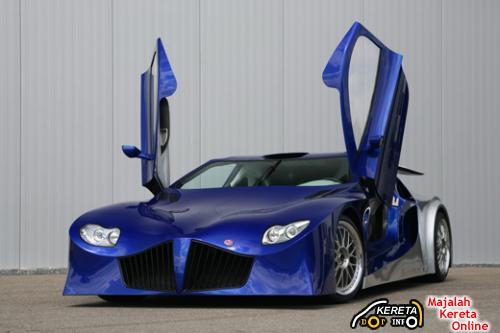 Please follow and like us: