Ha? Am I joking? I want to be a taxi driver? Aha.. Anyway no actually. Just want to state the advantage to be a taxi driver and share some taxi picture here. One of the advantage is they may have the chance to drive a good different cars in their life. It is not just a cheap car. You will find out when you see the picture below this post. Above picture is a new saga BLM NGV 1.6L campro IAFM taxi version.
WHY I WANT TO BE A TAXI DRIVER? – TAXI PICTURES
Hey, you dont need to buy a new car like waja and Nissan Sentra. Just be a taxi driver. And if you are crazy about car, now you have a chance to work in the car more than half of your life in there. Isn't it interesting? walla…
Not even a sedan car, you can drive an MPV. How was that? Now Naza Citra and Ria also is a Taxi in Malaysia. Plus, you got better fuel consumption with NGV and another subsidy from government if you buy petrol for your taxi. Cool right? Ahaks!
Well, this is the best part. If you are lucky enough as a taxi driver, you will have a chance to drive one of the luxury and sports car.
BMW Taxi Version?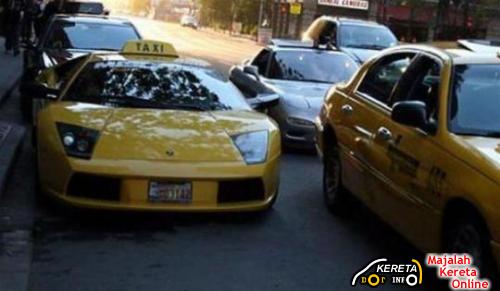 LAMBORGHINI TAXI
OMG! Did you try to go anywhere by this taxi? Come on guys, share with us about the fee of taxi! I am interested to find this taxi and have a nice experience in this great car even just for a while. =)
A Ferrari enzo taxi at Arab region. Guess how rich they are. Using Enzo as a taxi. WOW!
Last but not least, A Honda NSX teksi Kuala Lumpur version. Well, the guy who edited this picture is quite good at photoshop i think but need to improve the plate number there.
Anyway, i just want to share some picture of taxi in Malaysia and the picture of unexpected car to be a taxi. Anyone have an experince? What other advantage as a taxi driver? wahaha.. Come lets komen2 here.
Please follow and like us: