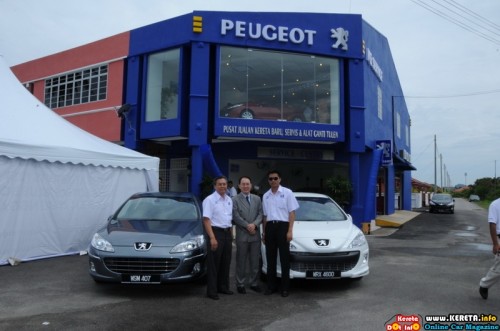 Peugeot Malaysia , Nasim Sdn Bhd with IZ Group has opened a new 3S service centre for peugeot cars & Parts in Kemaman Terengganu.
PEUGEOT MALAYSIA : NEW SERVICE CENTRE BRANCH FOR PEUGEOT CARS & PARTS
Nasim Sdn Bhd, the official franchise holder of Peugeot Automobiles in Malaysia welcomes yet another new Peugeot 3S centre. The new Peugeot centre is located in Kemaman, Terengganu.
Operated by the IZ Group which also has Peugeot dealerships in Jalan Chan Sow Lin, KL (KS Blue Box) and in Seremban (French Marque), the Kemaman centre which is known as KS Kemaman actually began operations on 1 March 2009 and was officially launched on Tuesday, 21 April 2009 by Mr C.K. Chow, Director of Auto Group, Naza Automotive Group. It represents the third Peugeot 3S centre to be opened by IZ Group.
KS Kemaman is a 2-storey lot situated along Jalan Air Putih in Kemaman town. The location was selected as it will soon be able to take advantage of traffic exiting from the Lebuhraya Pantai Timur exit which leads directly into Kemaman town. At the moment, all traffic to Kemaman must exit at the Kuantan exit.
The ground floor of the centre has 3 bays with an equal number of hoists. The set-up allows the centre to handle up to 10 cars a day. The centre is also equipped with the Peugeot Planet System or PPS which is connected via internet feed to the Automobiles Peugeot 24-hour call centre located in Petaling Jaya that is able to provide quick and accurate vehicle diagnostics.
The showroom and customer lounge is located upstairs.
As part of the Peugeot Corporate Identity, KS Kemaman is equipped with elements that comply to the official look and feel of a Peugeot centre. For customers convenience and comfort, the lounge also known as Peugeot
Avenue is also equipped with a flat screen TV with Astro service, specific area for refreshments and also a Peugeot merchandise stand.
Spare parts at the centre is valued at RM1.5 million and En Ismik Yusoff, Managing Director of IZ Group assures that all Peugeot customers in the East Coast of Malaysia will be well taken of with regards to peugeot parts in malaysia availability. Due to aggressive spare parts price reductions by Nasim Sdn Bhd, the maintenance of Peugeot cars are already on par or even lower than some Japanese makes as mentioned by Ismik.
This, he mentioned will continue Peugeot's strong resurgence back into Malaysia. Ismik adds that the strong backing and competitive products with attractive pricing from Nasim Sdn Bhd had also given him the confidence with the Peugeot brand.   
In his speech, Mr Chow said that Nasim Sdn Bhd is committed to support their best peugeot dealers in both sales and aftersales to ensure a high level of service to all Peugeot owners. On another note, he adds that the new Peugeot 308 and enhanced 407 which were launched earlier in the year had been very well received and the waiting period for the 308 Turbo is now up to 4 months.
Mr Chow added that in Peninsular Malaysia alone, there are already 17 peugeot branches service outlets (including KS Kemaman) and the Peugeot brand represented in all major market areas. There are also authorised service dealers in Kuching and Kota Kinabalu, bringing the total to 19 service centres. Nasim Sdn Bhd operates two of the 17 and these are in Glenmarie, Selangor and in Plentong, JB.
He adds that there will be another Nasim operated centre in Juru Auto City, Butterworth very soon. All Nasim Sdn Bhd and authorised service dealers are sufficiently equipped with special tools and the PPS system. This gives added confidence to all Peugeot owners. The standard service interval of 10,000km for all new Peugeot models also adds to customer convenience as less down time is experienced for servicing.
With the toll free Peugeot Assistance number 1-800-88-0747, Peugeot owners are given added confidence wherever they travel within Peninsular Malaysia.
With the number of Peugeot service centres growing rapidly, both Chow and Ismik are confident that it will lead to Malaysia Peugeot cars capturing a larger market share in the near future.
Please follow and like us: