NEW VOLKSWAGEN CADDY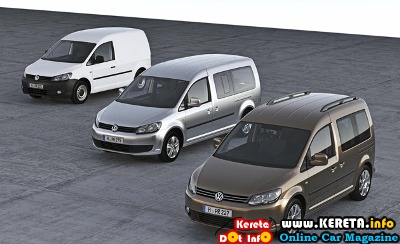 It's been nearly six years since Volkswagen took the knife to its workhorse Caddy, but starting next year, buyers can expect a host of changes. The company has just dished the details on its next-generation van before the vehicle gets its official unveiling at the IAA Hanover Commercial Vehicle Show this November. Don't expect anything too wild to crop up design-wise. The Caddy will swipe a few cues from the rest of the VW family up front, and new taillights will pop up as well. VW says that it will also offer roof rails for the first time on the new generation.
Take a peek under the hood, customer is presented by one of four turbo-diesel engines, all of which are 13 percent more efficient than their predecessors. The range starts with two 1.6-liter mills producing either 75 or 102 horsepower and  both of which come with start/stop technology. Also its comes one of two 2.0-liter engines. Those produce either 110 or 140 horsepower depending on your needs and customer budget.
MERCEDES BENZ A-CLASS AMG COMES WITH 270-HP
A few months back, word began to spread that AMG is working on a performance version of one of Mercedes' smallest cars. If true, it would not only mean giving the hi-po treatment to a segment hitherto untouched by the gents at Affalterbach, it could entail swapping a front-wheel drive hatch for a RWD platform. A month later, this small car's benchmarks were found out: the Golf R, Audi S3 and BMW 1 Series. And a month after that the rumors began to coalesce around the B-Class as AMG's subject of choice.
It turns out that the A-Class will be the first in line for an AMG makeover and the Ford Focus RS is also one of its targets. The diminutive Benz will get a four-cylinder, direct-injection engine with a pressure-wave supercharger that's looking at an output of somewhere around 270 horsepower and 280 pound-feet of torque. That gumption will reportedly get to the wheels through a dual-clutch gearbox and then navigate yet more clutches in the rear-biased all-wheel-drive system.
Please follow and like us: