Last month we already post about the new McLaren which is the MP4-12C.In that post, we gave some details and pictures of the McLaren MP4-12C.You can view it again by click the link below.
http://kereta.info/new-mclaren-mp4-12c-first-photo-of-the-new-mclaren/
After revealing pictures and details of its first project the MP4-12C, McLaren Automotive confirmed a second and a third car were being planned.Here we talk about the McLaren LM5 which is a concept created by Matt Williams, a graduate of Coventry University's Transportation Design degree program.This concept was produced as his final year project.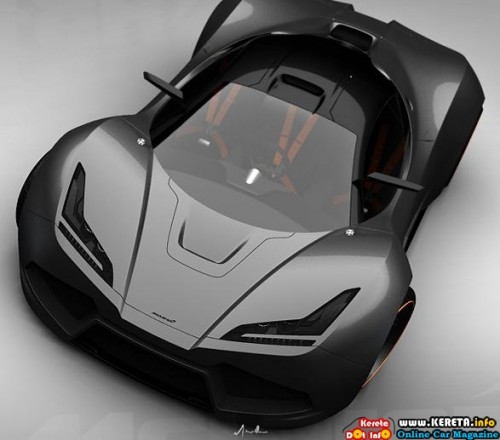 The LM5 was designed as a vehicle which could rekindle the drama and sophistication of the legendary McLaren F1. And while McLaren have since revealed the MP4-12C supercar, it's not exactly in the same league as the technological tour-de-force which was the original F1.
By recalling the old McLaren F1, Matt Williams made the connection strong between his concept and the original. For instance he kept the three-seat layout with a central driver's seat and the rest on either side behind him. The three sports seats were designed from a racing style point of view with an extremely slim profile and four-point harnesses. McLaren's Formula One heritage was not ignored as the multifunction steering wheel has a display for the tachometer and the lightweight chassis is of a carbon fibre construction.
The proposed engine for the McLaren LM5 concept is a worked over 5.0 litre V10 sourced from BMW. Mounted midship in the carbon fibre pre-preg chassis this unit would make the LM5 a force to be reckoned with on both road and track.Depending on the application a 5.0-litre naturally aspirated V10 can get around 515kW (700hp) so the choice is not a bad one, although the real thing would use a McLaren-developed powerplant.
Please follow and like us: