The 2011 Hyundai Sonata official photos has been spotted in several Korean froums. The photos has exposed more details on the mid sized Sedan.The new Sonata will come out much more sportier than its previous model featuring a four-door-coupe-like roofline and a stubby rear-end.
Most probably, the leaked photos is for the U.S and Asian Market, but we dont think the European model which is named as ix40 would differ much.Most probably the front fascia of the Sonata will be redesigned to something more in the lines of the new Tucson / ix35's grille.
There is no official news on the engine range but most probably, the four-cylinder and V6 petrol units will be installed in the sedan while the European model will feature an extra range, a four cylinder turbo diesel engine.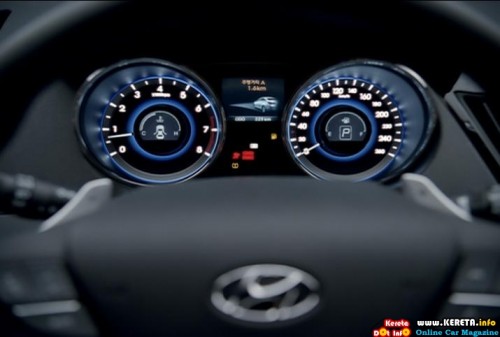 There's not much details on the interior as well. But from the single interior photo, we can see the instrument panel that houses a pair of deeply set gauges separated by small color screen.
We expect to see the new Sonata to make its world debut by the end of the year.
Please follow and like us: