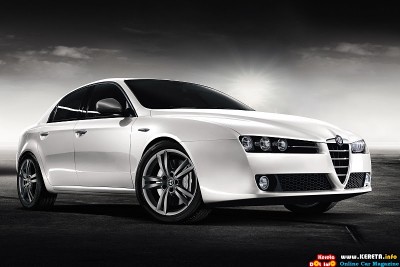 2011 ALFA ROMEO 159 SALOON
2011 Alfa Romeo 159 Saloon and Sportwagon range launch in the UK market. Alfa Romeo also offers the 159 with two more engines in the UK, there are the 2.0 JTDM 136 bhp and the 159 with two more engines in the UK, a 1.75-liter turbo petrol with 200 bhp and a 2.0-liter JTDM turbo diesel with 170 bhp, both compliant with Euro 5 standards.
The 2.0-liter JTDM is a Euro-5 diesel unit equipped with a variable geometry turbocharger delivering 136 bhp at 4,000 rpm and 350 Nm (258 lb-ft) of peak torque at 1,750 rpm. Linked to a 6-speed manual gearbox, it allows the sedan to complete the 0-62mph (100km/h) sprint in 9.9 seconds (SW: 10.1 sec) and to reach a top speed of 126 mph (202km/h).
The car is available in three trim specifications, the entry level Turismo, the comfort-orientated Lusso and sporty TI. All models are fitted as standard with six airbags, electric front and rear windows, dual zone automatic climate control, new sports cloth upholstery, cruise control, front fog lights, car radio with CD/MP3 player and eight speakers, Blue&Me Bluetooth hands-free system, black leather steering with remote controls, black leather gear knob and 16" alloy wheels.
2012 VOLKSWAGEN BEETLE
The third generation's Volkswagen Beetle that was unwrapped today ahead of its world premiere at the 2011 Shanghai Auto Show and New York Auto Show. The newest interpretation of the Bug comes 73 years after the launch of the original Beetle in 1938, which sold an amazing 21.5 million units, and 13 years after the debut of the New Beetle in 1998 that managed to sell a little over 1 million units until production ended in 2010.
The 2012 Volkswagen Beetle gets the track width front and rear, as well as the wheelbase at 2,537 mm, are also increased over its predecessor and promise to offer improved interior space. In addition, the boot capacity is 310 liters, up from 209 liters in the 1998 model, while all versions come with a split-fold rear seat for improved versatility. The 2012 Beetle has grown in size and now measures 4,278 mm in length (+152 mm), 1,808 mm in width (+84 mm) and 1,486 in height (-12 mm).
The Beetle features a front mounted engine, front-wheel drive layout. Depending on the region, the latest Bug will be offered with a choice of diesel and gasoline engines.
For US, powertrain options include a 2.0-liter TDI turbo diesel with 140HP and either a 6-speed manual or 6-speed dual-clutch automatic transmission, that returns 40mpg in the Highway cycle, 29mpg in City driving, and 33mpg combined. The gasoline range comprises of VW's –you-guessed it- archaic 2.5-liter five-cylinder unit with 170HP. The manual version attains 22 mpg (City), 31 mpg (Highway) and 25 mpg (combined), while its counterpart with a 6-speed automatic comes in at 22 mpg (City), 29 mpg (Highway) and 25 mpg (combined).
U.S. buyers can opt for a 2.0-liter TSI turbocharged gasoline unit with 200HP and a combined fuel economy of 25 mpg. It is offered with a 6-speed manual or an optional 6-speed DSG.
While for the rest of the world including Asia, Australia, Europe and New Zealand, the new Beetle will be offered solely with turbocharged four-cylinder engines, all of which are being used for the first time in the Beetle.
Gasoline choices include a 1.2-litre TSI with 105HP, a 1.4-litre TSI delivering 160HP and a 2.0-litre TSI producing 200HP. The diesel range includes a 1.6-liter with 105HP and a 140HP unit. According to VW, thanks to the addition of Stop/Start and battery regeneration systems the Beetle 1.6-litre 105HP is estimated to have a combined fuel consumption of 4.3 lt/100km (equal to 54.7 mpg US or 65.7 mpg UK) and CO2 emissions of 112 g/km.
Please follow and like us: