Wheel size vs tyre size:
Which tyre size best or suitable for your sport rim width?
Alloy wheels or sport rim width is normally labelled in jj & marked on the wheel itself. The location is usually at the back side of the wheel & from as low as 5jj up to 12+ jj.
Jj or j is an alphabet on the wheels after wheel size number in inches. For example, 5j or 5jj is 5 inch width of wheel from the flange. It is a measurement of wheel horizontal line that is matching with the suitable tyre width.
Installing wider tyres will make your wheel set looks bulky while narrower tyres will make your tyres stretched out that may reduce your car handling capability.
Wide rims with narrow tyres is called stretched Rota wheels locally in MY & this setup will get your car handling worsen due to sidewall surface not properly vertical so the side support is soft & easily pinched during cornering. This will increase body roll.
So choosing the right tyre size for your sport rim is very important to get the best handling & comfort for your car.
Here we share the suitable recommended tyre size for your sport rim width.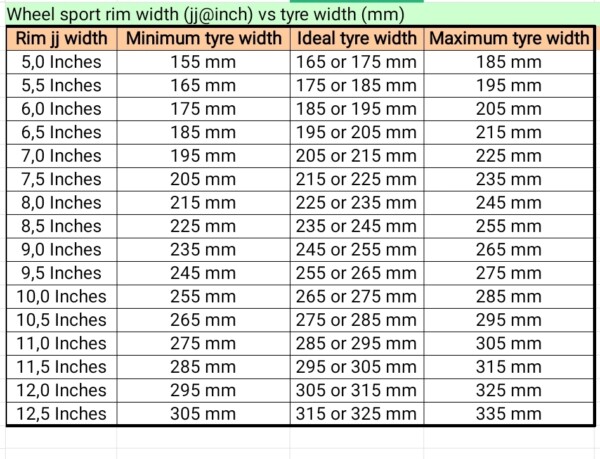 Alloy rim spec normally like this : 17×7.5j size, 4×114.3 hub size & et 47.
This means the sport rim size is 17 inch diameter, with 7.5j (7.5 inch width), 4 holes for bolts that is 114.3mm apart and it has 47mm distance from wheel inner flange to hub face.
Hope this helps. Feel free to share your experience using different set of wheels here.
#saiz tayar sesuai untuk sport rim anda
Please follow and like us: