Upin & Ipin, a famous Malaysian animation has so many fans across Malaysia and Indonesia. This owner of modified kancil is one of them. He express his favourite cartoon character on his Perodua Kancil by making an air brush which shows Upin & Ipin on the hood. It is quite nice and neat. Some of the Upin & Ipin fans like to collect all the stuff which is printed with Upin & Ipin images like the Upin & Ipin pillow, blanket, cup and sticker.
Well, you guys too must have a favourite movie or any character like bumble bee in Transformers or Hello Kitty right? =)
UPIN & IPIN HARDCORE FANS – MODIFIED KANCIL
Half of the body on upper part is painted in black like Limited Edition Kelisa.
Upin & Ipin air brush on the hood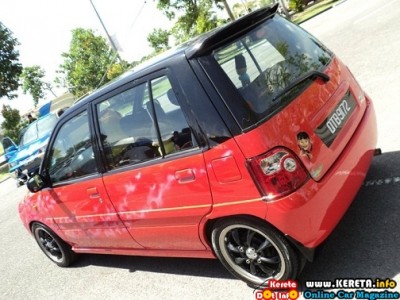 Simple modification on Kancil, even without bodykits, it still have some attraction on it.
Please follow and like us: