A Pagani Zonda is one of the fastest supercar on track. It evan had beaten the Buggati veyron in the Top Gear show.That is still not enough for them.After 24 months of development, and at the urging of an unnamed Italo-American
customer that already owns three Zondas, the Pagani Zonda R was created as a lightweight, track only variant of the iconic coupe. Production is limited to ten examples with a price tag of 1.4-million euro.
The Zonda R was designed from scratch, with only 10 percent of Zonda F components being carried over. It features a 739 horsepower 6.0L V12 from Mercedes AMG division, derived from the CLK GTR race car. Power will be dealt with via Pagani's first paddle-shift gearbox.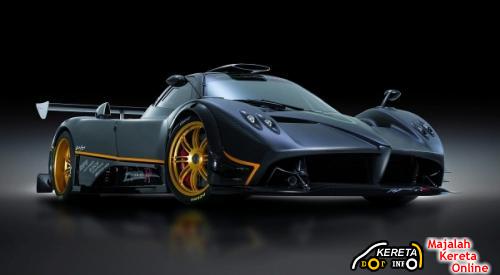 The interior has been designed to offer a perfect environment for the driver. The controls are limited to the indispensable, but the quality finish reflects the usual demanding Pagani standards. The bespoke Toora seats are FIA homologated and comply to latest HANS standards, five-point safety belts and a CrMo roll-cage assure the occupants' safety. The lucky owners of the Zonda R will experience a level of performance on the track that is simply not possible on the road. A power to weight ratio of 701 hp-per-ton will catapult them from 0 to 100km/h in less than 2.7 seconds, the Brembo carbon ceramic brakes ensure the car comes to a standstill even quicker.
The wheelbase has grown by 47mm, the overall length by 394 mm and the track is increased by 50mm. The bodywork and aerodynamics have been modified to offer maximum downforce. Much of the Zonda R is constructed of carbon-fiber and titanium mix, resulting in just a 2,360 pound curb weight.
Pagani makes it clear that the Zonda R is a not street legal, and one owner is taking that to the illogical extreme. One of the first Zonda Rs to be delivered will be installed in the customer's living room and fitted with a bespoke stereo system to play the R's swan song as it rips around the Nurburgring and LeMans. 
TECHNICAL SPECIFICATION
Engine: Mercedes-Benz AMG – M120 – 12 cylinder V 60°, 48 valves;
Displacement 5987 ccm, dry sump.
Max. Power: (kW) hp/rpm: (551) 750 / 7.500.
Max. Torque: Nm/rpm: 710/5.700.
Stroke: 80,20 mm.
Bore: 89,00 mm.
Traction control: 12 Stage – Bosch Motorsport traction control system.
Intake: Single throttle bodies, mechanically operated.
Exhaust system: Hydroformed Inconel, ceramic coated.
Transmission: Longitudinal mid engine; rear wheel drive with self-locking differential.
Gearbox: XTRAC 672 bespoke magnesium casing gearbox, 6 speed sequential dog gearchange with Automac Engineering AMT system.
Carbon-ceramic brakes: 4 ventilated Brembo disks, hydraulic power brake.
12 Stage – Bosch Motorsport Race ABS.
Disc: Front 380×34 mm 6 piston caliper; Rear 380×34 mm 4 piston caliper.
Wheels: Forged alloy APP wheels; 19" front, 20" rear.
Tyres: Pirelli P Zero Zonda R: ant. 255/35/19; post. 335/30/20.
Suspensions: 4 independent wheels with double A-arm;
Forged Avional suspension arms; pull rod helical springs and
Öhlins adjustable shock absorbers.
Structure: Central carbon-Titanium chassis, Engine is a stressed member; front and rear Cr Mo space frames;
Bodywork: carbon fiber MD System.
Dimensions: Length 4886 mm; Width 2014 mm; height 1141 mm; Wheelbase 2785 mm;
Dry weight 1070 kg.
Safety: Roll cage in Cr Mo steel; carbon fibre seats HANS compatible; five point harness.
Performance: 0-100 km/h in 2,7 sec.; Top speed: > 350 km/h.
Weight-to-Power ratio: 1.43 kg/hp.
Please follow and like us: