New Toyota Prius C enters Malaysia market with 1.5 Hybrid engine producing 73bhp/111Nm + a 61hp/169Nm electric motor. Together with Prius C launching is the New facelifted enhanced Prius 1.8 Hybrid. Read full news from thestar and bh.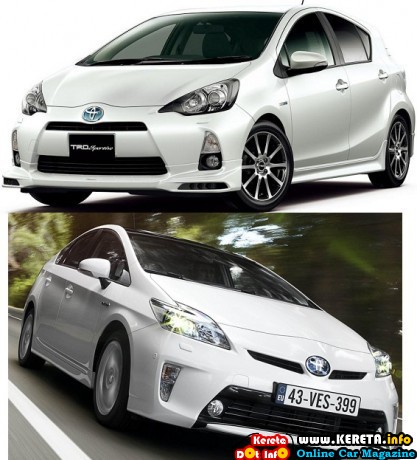 TOYOTA PRIUS C 1.5 HYBRID RM97K + NEW PRIUS FACELIFT HYBRID
UMW Toyota Motor Sdn Bhd is powering ahead with its eco-friendly petrol/electric hybrid line-up with the introduction of a RM97,000 Prius c hatchback and a refreshed Prius range which comes in two variants.   Launched at the Sunway Convention centre today, the Prius c, which is roughly the size of the Toyota Yaris, is also known as the Aqua in the Japanese market.
Prius c hybrid car malaysia ( TRD version not yet in Malaysia )
Taking a number styling cues from the Prius, the new Prius c is more youthful looking and is powered by a 1.5-litre 73bhp/111Nm engine coupled to a 61hp/169Nm electric motor.
The five-door hatchback uses an electronically controlled continuously variable transmission unit and energy from regenerative braking will be saved in a 19.3kW nickel-metal hydride battery pack under the rear seats.   The vehicle can be operated in Normal,  Eco and full electric drive modes.   Inside, the Prius c gets smart entry and push start system with steering wheel touch tracer buttons for audio, 3.5-inch multi-function information display and air conditioner settings.
Other features include seven airbags, anti-lock braking system, vehicle stability control, electronic brakeforce distribution and brake assist, 15-inch alloy wheels, cruise control, electric power steering and audio system with AUX/USB/iPod support.   Available colours are Silver Metallic, Lime White Pearl, Black Mica, Citrus Orange Mica Metallic and Super Red V.   Meanwhile, the improved Prius is now available in the regular and luxury trim levels.   While retaining the fuel efficient drivetrain consisting of a 99bhp/142Nm 1.8-litre petrol engine coupled to a 82hp/204Nm electric motor wired to a 27kW nickel-metal hydride battery pack in the trunk.   Transmission is the electronic continuously variable type and steering is the electric-power type.
Standard features in both variants include seven airbags, anti-lock braking system, vehicle stability control, electronic brakeforce distribution and brake assist, head up display, cruise control and four drive modes of Normal, Sport, Eco and full electric.
New in the refreshed Prius are a revised front bumper with larger lower grille, LED daytime running lights, redesigned LED tail lights, power retractable wing mirrors, and 15-inch alloy wheels with new aerodynamic caps.
The audio system is now a 6.1-inch touch screen type that supports MP3/USB/ AUX/Bluetooth and also doubles up a reverse camera screen.   The Prius luxury variant gets additional items such as LED headlights with auto levelling and washer system, chromatic auto dimming rear view mirror and leather seats with heating elements.   The Prius line up is available in four colours of Siver Metallic, White Pearl, Abyss Gray and Bordeaux Mica.
Prius luxury variant.
The Prius and Prius luxury variant come with on-the-road with insurance prices of RM139,900 and RM145,500 respectively.   The improved Prius line-up and new Prius c will be available at selected Toyota Showrooms in Peninsular Malaysia from Feb 24, and East Malaysia from March 2 onwards.   UMW Toyota Motor president Ismet Suki said the company had received 600 bookings for the Prius c and 200 orders for the improved Prius model.   He said the company was confident that the newly launched models would continue to promote Toyota's cutting-edge Hybrid Synergy Drive system to the Malaysian motoring consumers.   "Our sales target this year are 1,500 units for the improved Prius and 2,500 units for the Prius c," he said.
Diperkenalkan di Jepun tahun lalu dengan nama Toyota Aqua, Prius C hari ini diperkenalkan secara rasmi untuk pasaran rasmi. Dibuka untuk tempahan sejak 6 Februari lalu dan dalam tempoh singkat sudah mencatatkan 600 unit tempahan, Prius C yang merupakan model hibrid dengan enjin berkapasiti 1.5 liter dijangka akan menerima sambutan hangat di sini.   Dengan saiz yang lebih kompak berbanding Prius generasi ketiga, ia di datangkan dengan pakej yang lengkap dengan pelbagai peranti elektronik termasuk set navigasi serta kemera undur, Prius C dijual pada harga atas jalan RM97,000, menjadikannya kereta hibrid dengan tanda harga paling rendah di Malaysia setakat ini.   Pengedarnya UMW Toyota Motor Sdn Bhd mensasarkan jualan sejumlah 2,500 unit bagi Prius C tahun ini. Sejak pengenalan Prius pada 2009, syarikat itu sudah menjual 2,700 unit model berkenaan setakat Disember 2011.   "Pengenalan Prius C adalah untuk menjadikan kenderaan hibrid Toyota lebih mampu milik untuk rakyat Malaysia. Ia juga membolehkan pemilik di sini untuk menikmati inovasi teknologi hibird terkini sebagai pilihan," jelas Presiden UMW Toyota Sdn Bhd, Ismet Suki.   Turut diperkenalkan ialah model Prius yang dipertingkatkan, dengan penambahan bagi variab Prius Luxury bagi pelanggan yang menginginkan model Prius yang lebih eksklusif.   Prius C akan berada di pusat pameran Toyota terpilih seluruh negara bermula 24 Februari ini (Semenanjung) dan bermula 2 Mac di Sabah dan Sarawak
Please follow and like us: