Porsche Cayenne owners will be happy to know that the Swiss tuner Mansory released a new styling package for their precious SUV. The Mansory Porsche Cayenne 955 has a striking design with a dynamic front apron that has large air inlets, an ultra light bonnet which was additionally strengthened with carbon and wider wings which give this Cayenne an individual character.
Tuner Mansory has tweaked the Porsche Cayenne
New forged aluminum alloy black-paint five-spoke wheels come in two different sizes: 10×22 and 11×23 inches. These wheels were specifically designed by Mansory to keep unsprung mass in check, and thus increase acceleration and stopping distance. They are tied to new chassis springs which lowers the Cayenne's center of gravity by as much as 35 mm. With their additional sport package, an air suspension can also be tacked on. This lowers the car by 45 mm. The wheels cover up big disk brakes including four-piston calipers.
The interior of the Mansory Porsche Cayenne 955 features aluminum pedals, various carbon fiber inserts and a full leather interior as an option.And the Mansory Porsche Cayenne 955 also comes with valve-controlled sport exhaust system  to vary the sound leve according to the mood of th driver.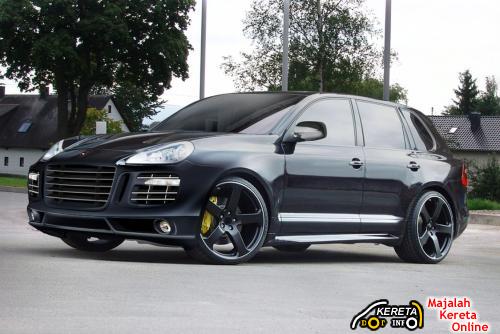 Please follow and like us: