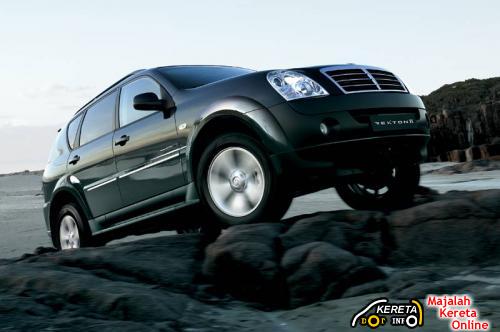 SSANGYONG REXTON R-LINE
SsangYong has brought in Project Kahn, a British automotive aftermarket design house, to spruce up its lacklustre Rexton.
Afzal Kahn said: "I was initially reluctant to go ahead with the project. However, as I have said hundreds of times before; we can do absolutely anything to any car and many people may have been under the impression that we would not have been able to do anything with the Rexton.
"I believe we have delivered an outstanding product that proves there we know exactly what we are doing and can add our touch to any car. I challenge anyone to bring me any car and I will give it that unique edge."
Built at Project Kahn HQ, the Rexton R-Line takes this several stages further with added luxury and design flair.
David Foster, SsangYong dealer development manager said: "Six months of reform and solid work mean that we now have the business model that SsangYong deserves. As well as offering buyers very competitive models that will work for them, Afzal Kahn has delivered a great product that will surely make headlines."
SSANGYONG REXTON R-LINE
SsangYong Press Release:
The customised version of the Rexton, shown on the SsangYong stand at this year's British International Motor Show, is now an additional model in the SsangYong range, priced at £29,995 (RM172,560.78) on-the-road.
The SsangYong Rexton R-Line was so enthusiastically received by visitors to the SsangYong motor show stand, that distributors Koelliker UK, had no hesitation in adding it to the range.
Differing only in detail from the show car, the Rexton R-Line is the work of celebrated designer Afzal Kahn, who has carved an international reputation for applying old-world craftsmanship and the finest materials to turn standard cars into bespoke works of art.
SPORTS EXHAUST
Built at Project Kahn's Bradford facility, the Rexton R-Line is based on the Rexton 270 SPR – an already well-equipped and imposing four-wheel drive SUV. But the R-Line takes this several stages further with added luxury and design flair.
Created to provide the ultimate Rexton with power, presence and versatility, the R-Line is a full-size 4×4 with outstanding off-road and towing capabilities, with the latest safety features and exceptional interior comfort.
Immediately obvious are the Kahn Design 22 inch RST alloy wheels. These combine with lowered sports springs to completely transform the look of the car.
Inside, a high quality black nappa leather and soft Alcantara interior with red stitching cossets the Rexton's occupants. Seats, door panels and centre console have been specially upholstered to add a tactile quality to the driving experience.
On the road, the R-Line has considerable presence with black paintwork combining with the lowered suspension and special 22 inch alloys. Performance and handling are improved with a Kahn Design sports exhaust and a lower centre of gravity from the sports suspension springs.
 LUXURY
Even in standard form, the Rexton 270 SPR has climate control, electronic stability programme (ESP) with active rollover protection (ARP), hill descent control (HDC), ABS, parking sensors, cruise control, auto lights and wipers, side airbags, electric folding door mirrors and heated seats. Leather upholstery is standard, but the Kahn R-Line is further upgraded.
The only thing the R-Line doesn't have as standard is an audio system, simply because customers are likely to want to specify their own choice of premium sound system.
The Rexton uses a more powerful version of the SsangYong 2.7 five cylinder turbo diesel engine producing 186 PS and a thundering 402 Nm torque at 2,400rpm. Transmission is a Mercedes T-Tronic automatic with gear lever and steering wheel shift buttons, and with permanent all-wheel drive. Suspension is independent all round. A rear spoiler and Kenwood touch-screen navigation system are the only options, but if a customer prefers a different exterior paint and interior leather colour combination, anything's possible.
Like all SsangYongs, the Rexton R-Line has a three year/60,000 mile warranty and three years' European roadside assistance cover.
Please follow and like us: