Sport rims are basically made of alloy which is lighter and better in terms of handling and performance. Today, it is actually a usual trend for us specially in Malaysia to change our standard wheel or rims to sport rims. Why? The main reason is just to make the car looks better and for cosmetic purposes. The other reason why need to buy sport rim is for handling and performance.
SPORT RIMS HEAVEN AT KLANG – WHY NEED TO BUY SPORT RIM? THE EFFECTS OF ALLOY WHEEL – tyre code & price range
Recently kdi editors have visited a place very well knowned as "the heaven of Sport rims". We went to klang area specifically in Kapar to see what is so special about the shops around that area. Surprisingly, we noticed that along the road there are too many car shops such as used car, car parts & accessories and the most famous one is the cheap sport rims shops! We were just amazed with that place especially when we visited one of the sport rims shop there and saw too many cars are changing their rims and tyres to a new stylish sport rims and bigger tyres! At that rim shop, around it, the workers are busy in changing those old rims to the new one.
We felt like there was a "changing wheel party" even though it was just a normal weekend. We have checked the price, actually it is affordable for all who want to change or buy new sport rim. For 12″ sport rim to 14″ sport rim the price is about RM730 and below for one set (4 piece) of new one. For 15″ to 17″ sport rim the price range is from RM750 to RM1300 only. They also accept trade in old wheel and sport rim for higher price. To trade in new car's standard sport rims with tires for 14″ rim, they will give you the best price to buy your old 14″ wheel for RM800! So if you are changing to new set of tires which cost you RM1000, you only need to pay them RM200!
When we compare the tires & sport rims at Klang and another cheap sport rims seller such as Tek Ming at Subang Jaya, we noticed that the price is quite similar but at Klang, there are more variety and choices of designs absolutely. When you are there, you will be confused which one will be suitable for your car. And this time you need to make a very very good decision to choose one outstanding "stars" from many of the available rims for your car.
Usually they sell sport rim's brand like titan racing, k2, kspeed and many of well known sport rims brand from taiwan like Lenso. There also have many types of used sport rims that you can get as low as RM400 per set. If you need to buy a new tires separately, it will costs you more than you buy it with a new sport rims. The price usually includes balancing and alignment.
A big advantage of alloy wheels is that balancing them is easy. The balancing weights are attached in the centre unlike steel wheels where they are attached at the edge of the rim. Thus wheel balance is not disturbed by tyre removal, etc.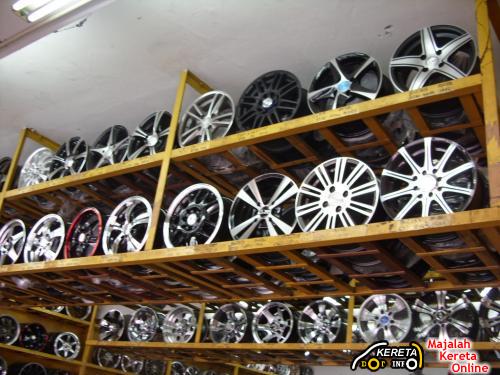 Alloy wheels are more expensive to produce than standard steel wheels, and thus are not included as standard equipment on base models of many non-luxury vehicles, instead being marketed as optional add-ons or as part of a more expensive trim. However, alloy wheels have become considerably more common since the 2000s, now being offered on economy and subcompact cars, compared to a decade ago where alloy wheels were often not factory options on inexpensive vehicles. Alloy wheels have long been included as standard equipment on higher-priced luxury or sports cars, with larger-sized or "exclusive" alloy wheels being options. The high cost of alloy wheels have made them attractive to thieves; to counter this, automakers and dealers have issued wheel locks where one of the wheel nuts require a special key to remove.
For passenger vehicles, alloy wheels are not only for improved driving performance, they are also for cosmetic purposes. The alloy wheel itself is shiny and/or has an intricate design, so there is no need for paint or wheel covers. By contrast, steel wheels either have to be painted steel rims with a chromed wheel nut, or be hidden with plastic wheel covers / wheel cap.
Tire code or Tyre code
Automobile tires are described by an alphanumeric code, which is generally molded into the sidewall of the tire. This code specifies the dimensions of the tire, and some of its key limitations, such as load bearing ability, and maximum speed. Sometimes the inner sidewall contains information not included on the outer sidewall, and vice versa.
Things to consider – Advice for changing new sport rims
There are several things you should consider before buying new sport rims which is the tyre size, rim size, rims material / quality and the weight of the rims. It is better to have a bigger & lighter rims with lower profile tyre that will maintain the overall diameter of your wheels so that it wont give wrong reading to your speedometer and gives the same comfortability and better handling for your car. Changing your rims to the same size but lighter can reduce your fuel consumption and give better performance.
But changing your rims to bigger size and not light enough, you will suffer from a very bad fuel consumption. Ask the professionals on what rims suit your car to maintain the fuel consumption thus improve handling and looks.
Happy changing new sport rims! =)
Please follow and like us: