New Contribution By CPS Addict
Message :Proton Satria Neo CPS RS yang dipaparkan di sini adalah salah sebuah
jentera terbaru yang sedang dibangunkan oleh pihak R3 Motorsport.. Apa yang menarik di sini adalah, pihak R3 telah memilih warna merah metalik sebagai warna standard untuk kereta ini..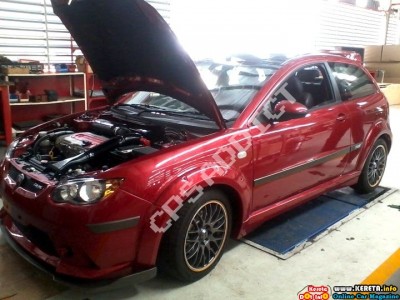 Mengikut sumber, Satria Neo CPS RS ini menggunakan enjin CPS 1.6 liter sama spt yg dipasang pada Satria Neo R3 Lotus Racing.. Ini bermakna enjin ini mampu menjana kuasa sehingga 145HP pada 108kW @7,000rpm and 168Nm @ 5,000rpm..
PROTON SATRIA NEO CPS R3 RS 2011
Walaubagaimanapun, Neo Cps RS ini tidak dilengkapi dengan sistem suspensi OHLINS & brek AP RACING.. Mungkin pihak R3 Motorsport ingin mengurangkan harga kereta ini agar mampu dimiliki oleh pembeli-pembeli yang fanatik pada kereta talaan R3..
Sumber tidak rasmi menyatakan kereta ini akan di jual pada harga sekitar
RM75,000-RM80,000 sebuah. Pengeluarannya juga mungkin akan dihadkan kepada 70 buah sahaja untuk menjadikan Satria Neo ini lain dari yang lain.
KDI :
R3 is expected to only build 70 units of these babies next year.
Powered by the same 1.6-litre CamPro CPS from the Satria Neo R3 Lotus Racing which outputs 145hp (108kW) @7,000rpm and 168Nm @ 5,000rpm, the upcoming SNR3 RS will feature many of the performance bits currently seen on the SNR3 Lotus Racing edition.
Gone, however, will be the OHLINS suspension and 4-pot AP Racing brakes, instead replaced by R3 lowering spring set over stock dampers and 400-degree semi-race brake pads up front.
The many enhancements like the R3 engine management system, R3 camshafts with adjustable pulleys, R3 Titanium headers, R3-tuned exhaust system and R3 carbon fibre intake box is expected to remain intact. Exterior-wise, the SNR3 RS will be painted metallic red with a black roof top.
The aggressive wide body styling with aerodynamic FRP bumpers both front and rear will be complemented by a R3 carbon fibre bonnet. Also expect lightweight 16? Advanti rims wrapped in sticky Bridgestone rubber.
No specs were revealed regarding the interior, but we anticipate Nappa leather with faux carbon fibre bits and semi-bucket Recaro seats.
Please follow and like us: