The Neo R3 Concept tuned by R3 brings new theme and amazing performance with it's turbocharged campro CPS engine that produce 200 horsepower and 250NM of torque on wheel! Very extreme engine achievement for a small capacity engine. The new theme eliminate red lines and it is replaced with yellow striking lines painted through the top of the body.
PROTON SATRIA NEO CPS R3 CONCEPT CAR 200HP 250NM !
Neo R3 concept, Powered by a R3-developed turbocharged CAMPRO CPS which outputs 200hp and 250Nm of torque, this is the fastest Neo by PROTON to date and purposely built as a Time Attack weapon.   
Some specs at a glance:
•AP Racing brakes and Ohlins suspension system provides the ultimate driving experience
•Racing aerodynamics enhanced by R3-designed bodykit with a front splitter for optimal down force
•Lightweight carbon fibre bonnet and FRP fenders to reduce overall weight
•Recaro shell seats provides ultimate driver support during spirited driving
•SPARCO steering wheel R323 for added control
•Integrated, colour-coded half cage gives added protection to driver.
Detailed Vehicle Specifications
BODY
•PROTON SATRIA NEO
•2 door compact
•R3 bolt-on CDS 4-point half roll-cage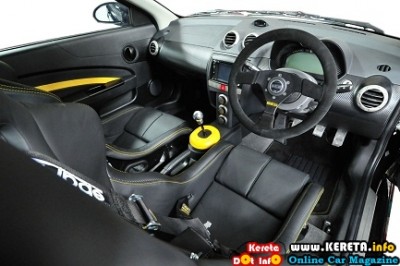 DIMENSIONS
•Overall length – 4473mm
•Width – 1821mm
•Wheelbase – 2600mm
•Track front – 1488mm
•Track rear – 1488mm
ENGINE
•16V 1597cc CAMPRO 4-cylinder in line DOHC
•R3 forged pistons 11:1 comp ratio
•R3 steel conrod
•R3 performance camshafts
•R3 reworked cylinder head
•R3 4-2 exhaust system stage 3
•R3 carbon airbox
•R3 management computer
•170PS/200hp & 200Nm @ wheel
TRANSMISSION
•R3-spec close ratio gearbox
INTERIOR
•R3-designed interior wrapped with Alcantara and Nappa leather
•SPARCO steering wheel R323, 330mm with R3 60mm spacer
•R3 4-point half roll-cage, colour-coded yellow
SUSPENSION
Front
•McPherson strut with stabiliser bar
•R3-tuned Ohlins coilovers
Rear
•Multi link with stabiliser bar
•R3-tuned Ohlins coil over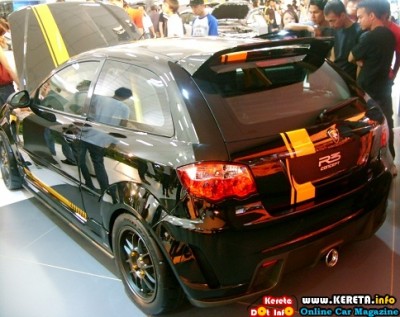 WHEELS AND TYRES
•R3-designed 15" wheels M7510 Wheel Assy 15 x 7 ET 37
•Bridgestone Potenza RE55S semi slick tyre 190/50 R15
BRAKES
•AP Racing 4-pot brake system
•AP Racing floating disc 295mm
•AP Racing performance brake pads
Please follow and like us: