NISSAN RB26DETT NUR
Continuing the previous car engine specs listing is the Nissan engine guide.The most famous engine from Nissan is of course the RB26DETT used in the Skyline GTR.With twin turbo 2.6 liter inline six cylinder, this car can handle more than 1000bhp.
Other favourable Nissan engine in Malaysia includes the SR20DET, SR16NEO,RB20DET and RB25DET. These engine are oftenly transplanted in the Nissan Sentra, Nissan Silvia, Nissan Bluebird and Nissan Cefiro.
For your info, the Waja R3 FR (Drift)  use the SR20DET engine. And another non Nissan fitment is a SR20DET into a Mazda Familia BF.Now i feel like getting a Sr20DET for my car :).Enough of that, lets start off with the 1.6 liter SR16VE NEO.
NISSAN ENGINE GUIDE
SR16VE NEO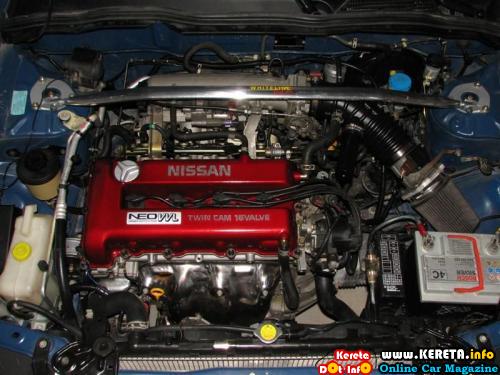 NISSAN SR16VE NEO VVL
Used in : N15 Nissan Pulsar VZ-R, B14 Nissan Lucino VZ-R
Valvetrain : DOHC NEO VVL
FI : Naturally Aspirated
Displacement : 1596 cc
Bore : 86mm
Stroke : 68.7mm
Power : 175bhp@7800rpm
Torque : 161Nm@7200rpm
SR16VE NEO N1
Used in: Nissan Pulsar VZ-R N1 (1997-1998)
Valvetrain : DOHC NEO VVL
FI : Naturally Aspirated
Displacement : 1596 cc
Compression Ratio : 11.6:1
Bore : 86mm
Stroke : 68.7mm
Power : 200bhp@7800rpm
Torque : 181Nm@7600rpm
SR20VE
Used in: 97-00 P11 JDM Nissan Primera Te-V sedan/G-V wagon,01-03 P12 JDM Nissan Primera,20V sedan or W20V Wagon. 97-00 U14 JDM Nissan Bluebird SSS-Z sedan, 97-00 Y11 JDM Nissan Wingroad ZV-S wagon
Valvetrain :  DOHC NEO VVL
FI : Naturally Aspirated
Displacement : 1998cc
Compression Ratio : 11:1
Bore : 86mm
Stroke : 86mm
Power : 190bhp@7000rpm
Torque : 196Nm@6000rpm
SR20DET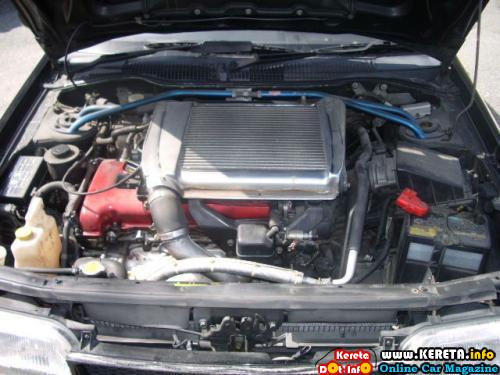 NISSAN SR20DET
Used in: Silvia S13,S14,S15,180sx 200sx,N14 Pulsar,R'nessa GT Turbo,Nissan Bluebirc U12,U13,Avenir W10,W11,Serena,Nismo 270R
Valvetrain : DOHC, VTC(Second gen, S14)
FI : Single Turbocharged
Displacement : 1998cc
Compression Ratio : 8.5:1(pulsar gti-r, 8.3:1)
Bore : 86mm
Stroke : 86mm
Power :Varies 200-250bhp(180sx,U12,U13:200bhp,)(Pulsar GTi-R, 200sx,S14:220bhp)(S15:250bhp)
Torque : 274-280Nm@4000-4800rpm
CA18DET
NISSAN CA18DET
Used in:87-88 Silvia S12RS-, 89-1990 Nissan Silvia/180SX S13 (International market), 87-89 Nissan Bluebird RNU12 SSS ATTESA Limited (Japanese Market), 89-93 Nissan 200SX S13-U Europe.
Valvetrain : Dohc
FI : Single Turbocharged
Displacement : 1809cc
Bore : 83mm
Stroke : 83.6mm
Power : 175bhp@6400rpm
Torque : 225Nm@4000rpm
RB20DET
NISSAN RB20DET
Used in: Nissan Laurels,Cefiro, Skyline R32
Valvetrain : DOHC
FI : Single Turbocharged
Displacement : 1998cc
Compression Ratio : 8.5:1
Bore : 78mm
Stroke : 69.7mm
Power : 215bhp@6400rpm
Torque : 265Nm@3200rpm
RB25DET
NISSAN RB25DET
Valvetrain : DOHC
FI :  Single Turbocharged (T28 Turbo)
Displacement : 2498cc
Compression Ratio : 9.0:1
Bore : 86mm
Stroke : 71.77mm
Power : 250bhp@6400rpm
Torque : 295Nm@7800rpm
RB26DETT
NISSAN RB26DETT
Used in: Nissan Skyline GT-R R32, Nissan Skyline GT-R R33, Nissan Skyline GT-R R34, Nissan Stagea 260RS, Tommy Kaira ZZ II
Valvetrain : DOHC
FI : Twin Turbo
Displacement : 2568cc
Compression Ratio : 8.5:1
Bore : 86mm
Stroke : 73.7mm
Power : 280bhp@6800rpm
Torque : 360Nm@4400rpm
Please follow and like us: