The new Peugeot 107 is now available in UK showrooms with three trim levels available, starting with the Urban Lite model at £7,595 (on-the-road) which is around RM40k. All new 107s benefit from a new look, an enthusiastic 1.0-litre petrol engine but with exceptionally low CO2 of just 106g/km and economy of 62.7 mpg (on the official Combined Cycle) which is just 22km/litre! So low fuel consumption!
Its love of the city dates from the Spring of 2005, and with more than 322,000 units produced (to the end of September 2008) and owners among the best ambassadors of its numerous qualities, the 107 provides an efficient and clever response to the needs of urban mobility and it does so now with a 'new smile on its face'.
The popular and extra-equipped Urban model has standard features over the Urban Lite that include body-coloured items, electric front windows, side airbags and remote central door locking, and the choice of either manual and 2-Tronic (an electronically controlled manual that operates as an automatic) transmission.
The new Verve model is a top-of-the-range Special Edition that includes as standard air conditioning, 14" alloy wheels and a rev counter, and exclusive availability of the new Mandalin Orange paintwork (as pictured).
Appreciated for its fun-and-youthful appearance, a stylish and trendy design, for its handling and low running costs with low road tax (currently just £35) and low emissions, the 107 has a user satisfaction level way above the market average.
For 2009, a new 107 features a design update with enhanced specification. The 107 has lost none of its sparkling appeal, both in its three doors and five door versions, and continues to express being 'cool' and 'energetic'.
Nevertheless it has evolved stylistically with a new front-end style that reflects a sharper and fuller personality.
The new profile of the lower front panel has more substance and robustness. It repositions the number plate in the lower section, like other Peugeot range models, and features a redesign of the contours of an air intake now featuring a cross-link grille. This new lower front panel incorporates side vents complete with grille and a decorative two-part insert, which can house the fog lights that are available as an accessory. An original and highly contemporary refinement radiates from this design with a wide chrome insert that accentuates the new bumper capping.
New 14? 'Cordouan' wheel trims styled with a seven-spoke design reinforce the new car's distinctive vitality. At the rear, the style of the 107 continues to display an attractive aspect with its dark glass tailgate/rear windscreen separating the angled contours of the rear lights.
Two all-new colours 'Mandalin Orange' and 'Electra Blue' supplement the existing range of Raven Black, Citrus Yellow, Laser Red, Carbon Grey and Zircon Grey. The passenger compartment is designed to accentuate the exterior colour with contrasting or matching trims that add emphasis or an imaginative touch.
Simple and functional, the interior of the 107 is also brimming with originality – the seats feature integral head restraints, a distinctive orange back-lit translucent panel for the heating/ventilation or air conditioning system (incorporating graphics with a modern feel), and a single instrument panel from which a rev counter is placed above.
Interior trims have developed in line with changes to style and body colours. A new 'Code' trim, accompanied by a silver grey bead on the seat surrounds. The Urban level retains its predominantly grey 'City' mesh trim but also features highlights linked to the sparkling new body colours. This design is another aspect likely to have wide appeal with customers, complementing the new front design aspect and its wider use of chrome decoration.
NEW PEUGEOT 107 FACELIFTED SPECIFICATION & PICTURES – FUEL EFFICIENT CAR 22km/litre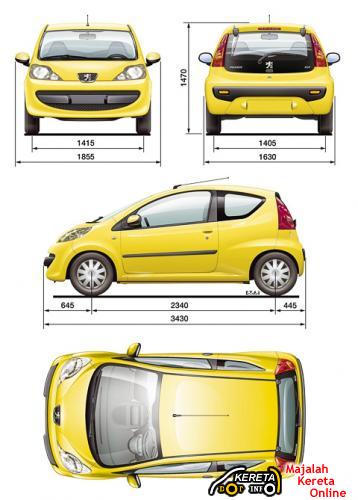 Euro-NCAP Crash Test Rating  4 stars
Euro-NCAP Pedestrian Test Rating  2 stars Technical
Body Hatchback
Engine, cc 998 (1.0 litre)
Transmission 5-spd/5-spd
Power, bhp [email protected]
Torque, lb ft [email protected]
CO2 Emissions, g/km 106/107
Driven Wheels F Running Costs
Insurance Group 1
Service Interval 10000
Warranty 3 years, 60000 miles Equipment
Power steering £Std
Climate Control £N/A
Driver's airbag £Std
Passenger airbag £Std
Side airbag £N/A
Alarm £DF
Immobiliser £Std
Seat Belt Pre-Tensioners £Std
Central locking £Std
Dimensions
Wheelbase, mm 2340
Length, mm 3430
Width, mm 1630
Height, mm 1465
Boot, litres 751
Fuel Tank, litres 35
Kerb Weight, kg 825
Gross Weight, kg 1190
Towing Limits, kg N/A
Performance
Top speed (Manual) 100 mph = 160kmh
0-62 mph (Manual) 14.2 seconds
Fuel consumption (Manual) 62.7 mpg (combined cycle)
Top speed (Automatic) 100 mph
0-62 mph (Automatic) 14.9 seconds
Fuel consumption (Automatic) 61.4 mpg (combined cycle)
Equipment
Alloy wheels £DF
Leather seats £N/A
Electric front windows £Std
Electric rear windows £N/A
Electric mirrors £N/A
Radio Cassette £N/A
RDS Radio £Std
CD player £Std
DVD player £N/A
Satellite Navigation £DF
Manual Sunroof £N/A
Electric Sunroof £N/A
Cruise control £N/A
Split/folding rear seats £Std
The 107 rc racing.
Please follow and like us: