A new Nissan Livina X-Gear Impul available for RM90.8k.  Livina x-gear Impul comes with complete body kit or aerokit which consist of full skirting, bumper for front and rear, new grill and new sport rims with impul tuned suspension system.
IMPUL Blast 2 Exhaust Muffler – a high-quality stainless steel exhaust muffler in a polished finish and IMPUL logo etched on the tailpipe. Apart from enhancing the car's looks, this muffler also provides sharper engine response and has a sportier note.
IMPUL Aura SX-20 Alloy Wheels – In a black and polished finish, these 17-inch wheels add a sporty and luxurious touch to the car. A new Super Cast process used by IMPUL makes the wheels 20% to 30% lighter in comparison to conventional processes, enabling improved performance without compromising quality, strength and most importantly, safety.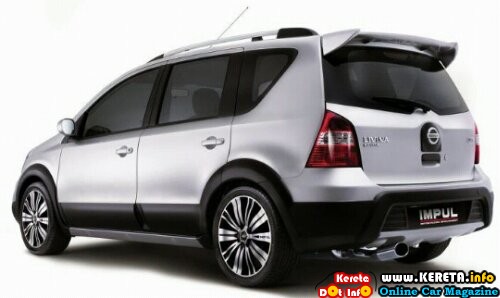 IMPUL Sports Suspension System – Consisting of shock absorbers and coil springs, this sports suspension system has been specially tuned by IMPUL engineers to deliver sportier handling.
The ride height is lower with increased lateral force support when cornering to enhance the neutral cornering characteristics of Nissan Livina X-Gear. Good ride comfort is retained so that long journeys are just as pleasurable.
IMPUL Complete Aerokit Rear Wing Spoiler – The IMPUL's signature wing spoiler ensure an optimized air flow over the masculine silhouette of the car.
Please follow and like us: