At one time in the summer of 2008, gas prices average around RM 14.94/gallon in the U.S. It is currently lower now due to the recession, but economist predict that it will be over RM 13.28/gallon when the economy start picking up again. The best ways to save money is not drive at all and just stay home, sit in front of your computer all day long! Most of us can't do that because we must drive to work and we live in a society where driving is a necessity. How many miles are you getting from a gallon of gas? There will be no expensive cars in this post and none of the cars here will reach 0-100 in 5 secs, but these cars will save you money on gas every year.
TOYOTA PRIUS
1. Toyota Prius: Base Price: $21,100 or RM 70,100
1.5-liter, 16-Valve VVT-i 4-Cylinder engine with 110 hp, 0-100 in 9.8 secs. The most fuel efficient car on the market is the Toyota Prius, also the most demanding car in the U.S. Most dealers will charge you an extra $2000 or RM 6650 for this car because it is rare and Toyota just doesn't make enough of it yet. A small sedan, but roomy enough for 5 and it is perfect for those that drive over 100 miles a day to work.
HONDA CIVIC HYBRID
2. Honda Civic Hybrid: Base Price: $22,600 or RM 75,100.
1.3-liter, 8-Valve, SOHC, i-VTEC® 4-Cylinder engine with 110 hp, 0-100 in 11.3 secs. Second on the list is a Honda Civic Hybrid, perfect for those Honda's fans that hate the Toyota Prius. 5 seats sedan with an electric motors, allowing you to save money on gasoline.
SMART FOR TWO
3. Smart for Two: Base Price: $11,590 or RM 38,500.
1.0-liter 3-cylinder runs on high-priced premium fuel with only 70 hp. Small, affordable 2-seat car that has a small engine, capable of saving you a lot of money.
VOLKSWAGEN JETTA TDI
4. Volkswagen Jetta TDI: Base Price: $20,000 or RM 66,410.
2.0-liter, 4-Cylinder diesel engine with 140 hp. Run on clean diesel and it is expected to hit the U.S. market by August 2008; the 2009 VW Jetta TDI actual performances may vary.
NISSAN ALTIMA HYBRID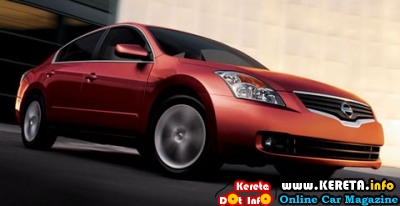 5. Nissan Altima Hybrid: Base Price: $25,170 or RM 83,577.
2.5-liter, 4-cylinder gas engine with 158 horsepower. A midsize sedan made for the Nissan lovers; a bit sportier than most hybrids.
TOYOTA CAMRY HYBRID
6. Toyota Camry Hybrid: Base Price: $25,350 or RM 84,174.
2.4-liter, 4-cylinder with 192-horsepower, reaching 0-100 in 8.9 secs. If you love the original Camry, then you should try the Camry Hybrid because it has better fuel economy and it can be a big saver after a few years
FORD ESCAPE HYBRID
7. Ford Escape Hybrid: Base Price: $26,640 or RM 88,458.
2.3-liter, 4-cylinder with 155 hp. Along with 2 other SUV, The Ford Escape Hybrid is the most fuel efficient SUV in the world.
MAZDA TRIBUTE HYBRID
Mazda Tribute Hybrid: Base Prices: $25,310 or RM 84,042 .
2.3-liter, 4-cylinder with 155 horsepower. If you want an SUV that can save you money on gasoline, why not get this Mazda?
MERCURY MARINER HYBRID
Mercury Mariner Hybrid: Base Price: $26,955 or RM 89,504.
2.3-liter, 4-cylinder and 155 horsepower. A small SUV that can be a little pricey, but it will make up for it cost in the long run.
TOYOTA YARIS AND TOYOTA COROLLA
Toyota Yaris Saloon/Toyota Vios : Base Price: $11,350 or RM 37,687
Toyota Corolla/Toyota Corolla Altis : Base Price: $15,250 or RM 50,637
8. Toyota Yaris vs Toyota Corolla. Which Toyota vehicle would you rather own? The Yaris is definitely a better buy, but it is smaller than the average sedan and it functionality is very limited.
MINI COOPER
9. Mini Cooper: Base Price: $18,700 or RM 62,093.
Engines: 118hp 1.6 L I4. A small vehicle that can also be purchased as a convertible
HONDA FIT AND FORD FOCUS

Honda Fit/Honda Jazz : Base Price: $13,950 or RM 46,321.
Ford Focus: Base Price: $14,395 or RM 47,798
10. Honda Fit vs Ford Focus . Which do you prefer out of these 2 cars? These 2 cars are under $16,000 or RM 53,128 and they will get you around 30-miles per gallon of gas
Please follow and like us: