"Finding Nemo" Perodua Kenari
Hi guys, I'm sure that some of you are the owner of the Perodua Kenari and have the experience driving the Perodua Kenari car.Perodua Kenari is one of Malaysian's favourite mini MPV.It is a small five-seat compact car or supermini car produced by Perodua. The Kenari is based on the first and second generation Daihatsu Move kei car (minicar).So, here we want to share some picture of modified Perodua Kenari.
In a world where there's a keen focus on value for money, the Perodua Kenari should be a car for our times. It is compact, reasonably spacious and uses a small, fuel-efficient engine.
Simple but smart.
This modified Perodua Kenari/Daihatsu Move looks aggressive!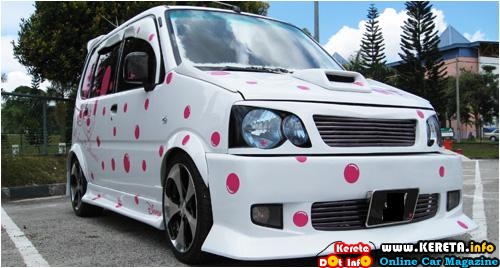 A "Polka Dot" Perodua Kenari, quite funny!
The Kenari is powered by a 1.0 litre DOHC engine. In 2004, the Perodua Kenari was given a new fascia with flush headlights. The name Kenari is a Malay name for a bird species, Canary. A wild birds are mostly yellow-green, with brownish streaking on the back. The species is common in captivity and a number of different colour varieties have been bred.
The Perodua Kenari is nippy and economical around town: it also comes with plenty of standard kit for a cheap price.
The 'tall boy' looks, popular in Japan, have not been so accepted here and various styling ideas have been attempted. One was the Kenari Aero version which gave it a sporty image and that attracted a lot of under-30 years old buyers.
After studying market needs further, Perodua have found that 'bold and outstanding' are what customers want and finding that a large proportion of Kenari buyers have been single males, a new version known as the Kenari RS has been created which will become the 'image leader' for the model.
Perodua Kenari/ Daihatsu Move American Metal II ( limited edition)
Several versions of the Perodua Kenari:
The Perodua Kenari GX/EZ, available in manual (GX) or automatic (EZ) transmissions with normal stylings. The Kenari GX is no longer available for sale from Perodua. This variant was the first iteration of the Kenari to be release. In the past there also a more basic version came simply with a solid body color with unpainted front and rear bumpers. The price tag for the Kenari EZ is RM40,500.
The Perodua Kenari AERO GX/EZ, available in manual (GX) or automatic (EZ) transmissions with an aero kits. The price tag for the Kenari AERO EZ is RM44,000 while for GX is RM41,500.
The Perodua Kenari RS, sold with sporty accessories similar to the Daihatsu Move Custom but available only with an automatic transmission. What 'RS' stands for? The Perodua people say that there is no specific meaning and suggest that it could be 'Really Stunning', 'Really Sporty', 'Really Sensational' of whatever else you want to imagine!The price tag for the Kenari RS is RM45,000.
Perodua Kenari RS – Similar to the Daihatsu Move Custom
PERODUA KENARI SPECIFICATIONS
Production
2000–current
Class
Supermini
Body style(s)
5-door mini MPV

Layout
FF layout

Engine(s)
989 cc, water-cooled, in-line 4-cylinder, 4-cycle, DOHC.
Wheelbase
2360 mm (92.9 in)

Length
Overall – 3460 mm (136.2 in)
Interior – 1760 mm (69.3 in)

Width
Overall – 1500 mm (59.1 in)
Interior – 1220 mm (48 in)
Height
Overall – 1660 mm (65.4 in)
Interior – 1320 mm (52 in)
Curb weight
865 kg (1907 lb) – 880 kg (1940 lb)
Fuel capacity
40 L
Related
Daihatsu Move
Below are some comments about Perodua Kenari from some of Kenari Users.
Jeremy Brock
I live in rural SW Scotland and use a Kenari as a second car. It's been excellent. It's now done 48000 miles and never broken down in the 5 years I've owned it. Very economical – 53mpg on average – and an incredibly practical load carrier.
Celloting
I love this mini-MPV! I am not looking for a gutsy, 0-100km/h at 6secs and gas-guzzling monster (screams not green!). It's cheap to run, does 40+ in town and 50+ on motorway, bags of room and the upright sitting position does not produce DVT (deep vein thrombosis)! It's nippy and, yeah, it's gutsy (believe it or not). I have had drivers staring at me in disbelief when they are overtaken! And you know what, it's great for touring!
Nor Diyanah Hafiza
I've a Perodua Kenari. In the 5 years I've owned it, it never broken.I've change my sportrims, bodykit and also change it to be like a Daihatsu Move.I really love my car!
Ahmad Fuad Johari

Perodua Kenari is my 1st car. Until now, nothing big problem happened to my car. Congratz to Perodua for their high quality products.
Wow! A "BMW" Perodua Kenari?
Please follow and like us: