Mazda Launches Limited Edition Mazda2 with a Sporty Flair
The Mazda2 "Fit for Fun" is a new special edition model that will be marketed in Germany with production limited to 400 examples. The "Fit for Fun" is based on the Mazda2 with the 86HP 1.3-liter MZR engine and its most prominent feature is the sport package that includes dark headlamps, a front apron, rear wing, painted grille, side skirts and dark grey 16-inch alloy wheels. The model also features a higher level of standard equipment with features such as automatic climate control, Dynamic Stability Control (DSC) with traction control (TCS), onboard computer and rain sensor for the windshield wipers. Prices in Germany begin from €15,800 with buyers being able to choose from two exterior colors, white or black.
MAZDA2 SPORTY FLAIR LIMITED EDITION – MAZDA 2 SPECIFICATION
The new Mazda2 three-door hatchback is designed to attract new customers and boost Mazda's continued growth in the European market. It comes with the same powertrain line-up – the lively and responsive MZR 1.3-litre and 1.5-litre petrol engines and the MZ-CD 1.4-litre turbo diesel – as the five-door hatchback. These engines achieve high fuel efficiency together with particularly low CO2 emissions.
The three-door Mazda2 shares the same overall dimensions as the five-door and achieves a similarly modest kerb weight, model for model. The five-door Mazda2 has already demonstrated that by completely redesigning the body and chassis and implementing Mazda's unique 'gram strategy', the brand's small car weight could be reduced to under the 1,000 kilogram threshold. This outstanding result reverses the industry trend towards bigger and heavier cars.
Launched in September 2007 as Mazda's first new-generation Zoom-Zoom vehicle to evolve to the next level, the new Mazda2 was an immediate hit with European customers. In December 2007, it was awarded a 5-Star safety rating by Euro-NCAP and it has won more than 20 automotive awards. These include Car of the Year awards in Austria, Belgium, Bulgaria, Croatia, Denmark, Greece and New Zealand, along with the Japan RJC Car of the Year.
MAZDA2 SPECIFICATION
What a 'Super Little Model' the Mazda2 is. The very chic all new 3-door and 5-door are funky, stylish and certainly set the trend.
The Neo, Maxx or Genki will get you to your destination in style and comfort, with controls and switches within easy reach and new safety features that provide total peace of mind.
A light weight body, nimble and sharp handling, and the performance and fuel efficiency of a 1.5 litre engine, the new Mazda2 is a fantastic way to experience Zoom-Zoom.
Body styles
5-door or 3-door
Engine
1.5 litre in-line 4 cylinder 16 valve DOHC S-VT
Max power
76 kW @ 6,000 rpm
Max torque
137 Nm @ 4,000 rpm
Fuel type
Regular Unleaded (min. 91RON)
Fuel consumption
6.4 litres per 100 km (manual)
6.8 litres per 100 km (auto)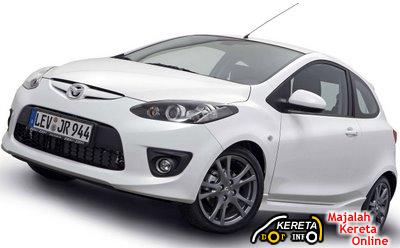 Drive
Front-wheel drive
Transmission
5-speed manual
4-speed automatic
Key features
15 inch steel wheels
Air-conditioning
AM/FM tuner with MP3 compatible CD player and 4 speakers
Anti-lock Braking System (ABS)
Electronic Brake-force Distribution (EBD)
Emergency Brake Assist (EBA)
Front SRS airbags
Optional Safety Pack includes:
Curtain SRS airbags
Dynamic Stability Control (DSC)
Side SRS airbags
Traction Control system (TCS)
Please follow and like us: