Today, we are going to share some info regarding  Car spoilers and the price list of the available spoilers in Malaysia that we found on the internet. This info might help you to buy and choose a better spoilers for your car.
Firstly, a spoiler is an automotive aerodynamic device whose intended design function is to 'spoil' unfavorable air movement across a body of a vehicle in motion. Spoilers are often fitted to race and high-performance sports cars, although they have become common on passenger vehicles, as well. Some spoilers are added to cars primarily for styling purposes and have either little aerodynamic benefit or even make the aerodynamics worse.
Spoilers for automobiles are often incorrectly confused with, or even used interchangeably with, wings. Automotive GT wings are devices whose intended design is to generate downforce as air passes around them, not simply disrupt existing airflow patterns.
Spoilers generally function by disrupting or diffusing the airflow passing over and around a moving vehicle as it passes around the spoiler. This is accomplished by increasing the amount of turbulence flowing over the shape, "spoiling" the laminar flow and providing a cushion for the laminar boundary layer. Applications are varied, including using body panels, or most typically by adding an extruding attachment.
Occasionally spoilers are added solely for appearance with no thought towards practical purpose.
Malaysia Car Spoilers, Universal Spoilers & GT wing For all Model Price Lists and Picture Catalog.
TOYOTA VIOS V2 RM180 SMD
TOYOTA VIOS OEM RM165 SMD
TOYOTA VIOS OEM RM200 white bulb (abs material)
TOYOTA VIOS TYPE R RM180 SMD
TOYOTA VIOS TRD V3 RM180 SMD
YOYOTA VIOS PU BOOT LIP RM160
TOYOTA VIOS 06 TRD V2 RM170 SMD
TOYOTA VIOS 06 MUGEN 06 RM170 SMD
TOYOTA VIOS 06 PU BOOT LIP RM160
TOYOTA ALTIS 06 TRD RM170 SMD
HONDA CITY 07 MODULO RM170 SMD
HONDA CITY 06 DC2 RM145
HONDA CITY 06 MUGEN 06 RM165
HONDA CIVIC 07 MODULO RM180 SMD
HONDA CIVIC 07 TYPE R RM170 SMD
HONDA CIVIC 07 PU BOOT LIP RM160
PROTON PERSONA TRD V3 RM170 SMD
PROTON PERSONA DC2 RM145
PROTON PERSONA R3 RM150
PROTON PERSONA MUGEN 06 RM160
PROTON PERSONA/GEN2 2X4 RM160
HONDA EK99 VIRS RM160 SMD
HONDA EK99 DC5 TYPE R RM170
HONDA STREAM 07 MUGEN RM190
HONDA STREAM 07 MODULO RM180 SMD
PROTON SAGA BLM MUGEN 06 RM170
PROTON SAGA BLM R3 RM180 SMD
PROTON SAGA BLM LANCER RM160 SMD
PROTON SAGA BLM PU BOOT LIP RM150
HONDA JAZZ VALLIANT RM180
HONDA JAZZ AB FLUG RM180
HONDA JAZZ MUGEN PRO RM180
HONDA JAZZ SPOON RM180
HONDA JAZZ MUGEN PRO V2 RM180
UNIVERSAL SPOILER A32 RM150 SMD
UNIVERSAL SPOILER S15 RM175 SMD
UNIVERSAL SPOILER E36 BTCC RM190
UNIVERSAL SPOILER PROMOTE RM155 SMD
UNIVERSAL GT WING JS RACING RM430
UNIVERSAL SKYLINE R34 SPOILER RM155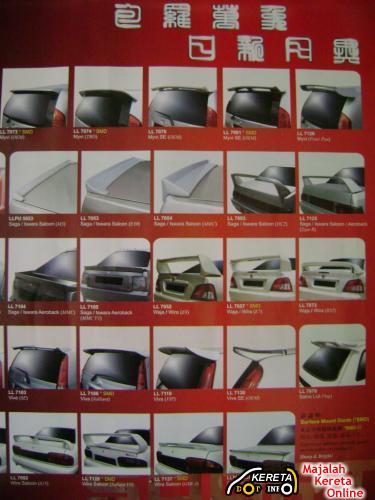 PROTON GEN2 MODULO RM170
PROTON GEN2 R3 RM170P
PROTON GEN2 MUGEN 06 RM170
PERODUA MYVI LUCKY STAR RM160
PERODUA MYVI OEM RM155 SMD
PERODUA MYVI TRD RM160 SMD
PERODUA MYVI PETER PAN RM180
PERODUA MYVI SE OEM RM150
PERODUA MYVI SE OEM RM180 SMD
PERODUA KELISA OEM RM155 SMD
PERODUA KELISA GINO RM180 SMD
PERODUA KELISA AB FLUG RM180
PERODUA KELISA MUGEN PRO V2 RM180
PERODUA SE OEM RM130
PROTON SAGA/ISWARA SALOON M3 RM115
PROTON SAGA/ISWARA SALOON E30 RM115
PROTON SAGA/ISWARA SALOON MMC RM115
PROTON SAGA/ISWARA SALOON DC2 RM135
PROTON SAGA/ISWARA SALOON AEROBACK TYPE R RM140
PROTON SAGA/ISWARA AEROBACK E30 RM115
PROTON SAGA/ISWARA AEROBACK TOP RM135 SMD
PROTON SAGA/ISWARA AEROBACK MMC RM115
PROTON SAGA/ISWARA AEROBACK MMC V1 RM115
PERODUA KANCIL 03 AB FLUG RM170
PERODUA KANCIL 03 OEM RM115
PROTON WAJA/WIRA EVO 8 RM135
PROTON WAJA/WIRA EVO 7 RM150 SMD
PROTON WAJA/WIRA R32 RM160
PROTON WIRA AEROBACK MUGEN 06 RM160
PROTON WIRA AEROBACK A32 RM150 SMD
PROTON WIRA AEROBACK VIP RM160
PERODUA VIVA OEM RM115
PERODUA VIVA MUGEN PRO RM150
PERODUA VIVA SE RM150
PERODUA VIVA VALLIANT RM160 SMD
PERODUA VIVA VIP RM160
PERODUA SE OEM RM140
PROTON SATRIA 96-03 AB FLUG RM160
PROTON WIRA SALOON GTR RM170 SMD
PROTON WIRA SALOON DC2 RM135
PROTON WIRA SALOON LANCER EVO 2 RM150 SMD
PROTON WIRA SALOON EVO 3 RM150 SMD
PROTON WIRA MUGEN 06 RM160
PROTON WIRA SALOON S15 RM170
PROTON WIRA SALOON SUBARU V8 RM180 SMD
PROTON WIRA SALOON GSR A RM150 SMD
PROTON WIRA SALOON MINI VIP RM145
Please follow and like us: