Kia already steal the spotlight in the 2010 Geneva Motor Show with their new plug-in hybrid the Kia Ray Concept.The concept was created at the Kia Design Center America and is the first from the Korean brand based on this powertrain architecture.The Ray already unveiled at the 2010 Chicago Auto Show last February.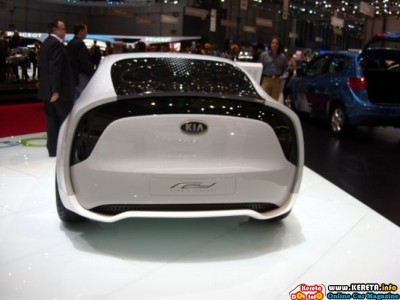 If built, Kia says the Ray's drivetrain could consist of a 153-bhp 1.4-liter Gasoline Direct Injected (GDI) 4-cylinder, a Continuously Variable Transmission (CVT) and a 78-kW electric motor fed by lithium-ion polymer batteries. Power can be sent to the front wheels via the electric motor, the gasoline engine, or both. Kia claims the Ray concept can drive 81km on pure electric power.Top speed is 175 km/h.
The Ray's performance figures are not the point here, though. It's really all about seeing how many eco-friendly pieces of technology will fit into one relatively compact sedan. Take the exterior, for instance. It clearly sports a slippery shape to reduce drag, but it's also covered in nano-laminate film to keep the interior cool and reduce the need for all those harmful emissions from the air-conditioning. Solar cells on the roof also generate a trickle charge to run a fan that further cools the interior.
Inside, the Ray features a typical concept car interior complete with "floating" white leather seats, mesh door panels and a push-button transmission. Kia also notes that the floor is covered in everybody's favorite renewable resource, "100 percent earthy mocha wool."
On the technology side, the Ray features an Infinity GreenEdge sound system that uses lighter speakers and low-consumption amplifiers that use less overall power than conventional systems. Kia's new UVO entertainment system has also been integrated for full voice-activated control of the car's media system.
Engine+Elec.motor
-Engine Ignition by Motor
-Ignition by engine for cold start or low battery charge.
Engine
-Engine moves vehicle in optional fuel efficient range.
-Extra propulsion is stored in battery.
Engine+Elec.motor
-When engine has major load
-Electric motor provides secondary propulsion power.
Battery Charge
-Decelaration energy is not wanted and is storted in batteruy by motor (regenerative braking)
Engine off
-Switches engine off while at stop to reduce unnecessary fuel concumption and emission (ISG)
Please follow and like us: