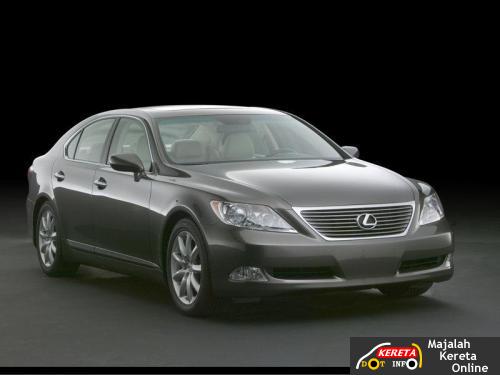 LEXUS Malaysia, a division of UMW Toyota Motor Sdn Bhd, has added a new variant, the Lexus LS460, which was launched at the Lexus centre in Mutiara Damansara last week to complement its flagship LS460L model.
The LS460 is designed to cater for customers who demand a more personal and involved driving experience with the added seating capacity, UMW Toyota managing director Kuah Kock Heng said.
Although new to the Malaysian market, having made its entry in December last year, Lexus has already sold 330 units, with 90 of them being the LS460L model.
While the LS460L seats only two occupants at the rear, the LS460 can seat three in total comfort.
For the first time, the driver's seat comes with four-way lumbar support adjustment as driver comfort is paramount to safe motoring.
High Output V8, World's First Eight-Speed Transmission
The LS will be powered by an all-new highly advanced 4.6-liter V8 engine that will produce approximately 380 horsepower and 370 pound-feet of torque. Combined with an eight-speed automatic transmission, a world-first, the LS 460 will travel from zero-to-sixty miles per hour in less than 5.5 seconds. With that level of performance, the new LS will achieve an estimated combined city/highway mileage in the mid-20s. Lexus is targeting an Ultra-Low Emissions Vehicle II (ULEV II) rating for the LS 460.This advanced engine features the world.s first electric-motor driven variable valve timing with intelligence and electronically controlled intake cam (VVT-iE).
The new LS is built on a sophisticated platform that maintains a delicate balance between ride comfort and responsive handling. The completely redesigned multilink suspension system includes an electronic power steering system and a next-generation Vehicle Dynamics Integrated Management (VDIM) system.
VDIM is an advanced stability system that integrates and manages a new Electronically Controlled Brake (ECB) system, Electronic Power Steering (EPS), Vehicle Stability Control (VSC), Antilock Braking System (ABS), Brake Assist (BA), Electronic Brake-force Distribution (EBD) and engine torque via the electronically controlled throttle.
Monitoring a variety of sensors, the system is designed to anticipate the onset of a vehicle skid or slide and then help correct the situation with a combination of braking, throttle and steering control in a way that is essentially transparent to the driver. Data is gathered from more sources and processed earlier and faster than in previous designs, helping to make VDIM less obtrusive and even more effective.
The LS460 sells at RM665,000 without insurance, which is about RM100,000 less than its longer wheelbase cousin, the LS460LS.
As with all Lexus models, the LS460 comes with a three-year warranty or 100,000km together with the full range of after-sales services offered at the Lexus centre.
Please follow and like us: