[youtube:http://www.youtube.com/watch?v=oZrZeiIxlBA 425 344]
Formula 1 GP event is one of the best experience in motorsports field. Recently we have our free time to watch the Malaysian F1 GP in SIC Sepang as normal spectators where a lot of people gather to see closely and hear the loud F1 engine roaring. Event starts from Friday (practice), Saturday (Qualifying) and Sunday (Final actual race). Here are some pictures and stories about the F1 GP experience that we would like to share.
We managed to get early bird ticket which sold last year in December. The price of F1 ticket early bird is cheaper which is only RM30/person for 3 days pass. But you may need to purchase parking ticket which is very expensive at RM50 flat rate per car for 3 days. Above is a panoramic view of SIC during the event.
 Make sure you bring along your umbrella coz there might be raining. Take as much pictures by using your own camera but handy cam is not allowed.
Before the F1 race starts, you can go around the SIC entrance and see whats happening.
 Merchandise such as shirt and cap with each F1 team design on it sold there.
Safety car this time using Merce SLS AMG. Quite fast on the track. This car will run 1 round before the race starts and will follow the last F1 car during 1st lap.
The 3 theme which brings Malaysia name and flag during race : Merce Petronas, Team Lotus and Lotus Renault.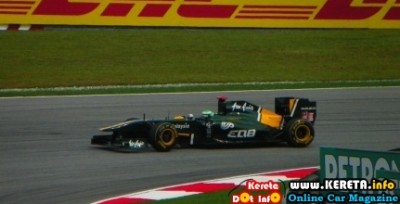 Pics above and below : Just after race started in the 1st lap.
Some technical specification of F1 car (Lotus renault) and its engine:
Front Track: 1450mm
Rear Track: 1400mm
Overall Lenght: 5100mm
Overall Height: 950mm
Overall Width: 1800mm
Overall Weight: 640kg with driver, cameras, ballast
Chassis
Moulded carbon fibre and aluminium honeycomb composite monocoque, manufactured by Lotus Renault GP and designed for maximum strength with minimum weight. RS27-2011 V8 engine installed as a fully-stressed member.
Front suspension
Carbon fibre top and bottom wishbones operate an inboard rocker via a pushrod system. This is connected to a torsion bar and damper units which are mounted inside the front of the monocoque. Aluminium uprights and OZ machined magnesium wheels.
Rear suspension
Carbon fibre top and bottom wishbones with pull rod operated torsion springs and transverse-mounted damper units mounted in the top of the gearbox casing. Aluminium uprights and OZ machined magnesium wheels.
Transmission
Seven-speed semi-automatic titanium gearbox with reverse gear. "Quickshift" system in operation to maximise speed of gearshifts.
Fuel system
Kevlar-reinforced rubber fuel cell by ATL.
Cooling system
Separate oil and water radiators located in the car's sidepods and cooled using airflow from the car's forward motion.
Electrical
MES-Microsoft Standard Electronic Control Unit.
Braking system
Carbon discs and pads.
Calipers by AP Racing.
Master cylinders by AP racing and Brembo.
Cockpit
Removable driver's seat made of anatomically formed carbon composite, with six-point harness seat belt by OMP Racing. Steering wheel integrates gear change and clutch paddles, and rear wing adjuster.
KERS
Motor generator unit driving into front of engine with batteries as an energy store.
Motor Generator supplied by Renault Sport F1.
Electronic control unit by Magneti-Marelli.
Engine – RS27
Capacity: 2400 cc
Architecture: 90° V8
Weight: 95 kg
Max rpm: 18,000 rpm
ECU: MES SECU
Fuel: TOTAL
Oil: Elf (a brand of TOTAL)
Oil tank: Lotus Renault GP
Battery: Lotus Renault GP
The result announcement and trophy presentation.
Pos No Driver Constructor Laps Time/Retired Grid Points
1 1  Sebastian Vettel Red Bull-Renault 56 1:37:39.832 1 25
2 4  Jenson Button McLaren-Mercedes 56 +3.261 4 18
3 9  Nick Heidfeld Renault 56 +25.075 6 15
4 2  Mark Webber Red Bull-Renault 56 +26.384 3 12
5 6  Felipe Massa Ferrari 56 +36.958 7 10
6 5  Fernando Alonso Ferrari 56 +57.2481 5 8
7 16  Kamui Kobayashi Sauber-Ferrari 56 +1:06:345 10 6
8 3  Lewis Hamilton McLaren-Mercedes 56 +1:09.9572 2 4
9 7  Michael Schumacher Mercedes 56 +1:24.896 11 2
10 15  Paul di Resta Force India-Mercedes 56 +1:31.563 14 1
11 14  Adrian Sutil Force India-Mercedes 56 +1:41.379 17 
12 8  Nico Rosberg Mercedes 55 +1 Lap 9 
13 18  Sébastien Buemi Toro Rosso-Ferrari 55 +1 Lap 12 
14 19  Jaime Alguersuari Toro Rosso-Ferrari 55 +1 Lap 13 
15 20  Heikki Kovalainen Lotus-Renault 55 +1 Lap 19 
16 24  Timo Glock Virgin-Cosworth 54 +2 Laps 21 
17 10  Vitaly Petrov Renault 52 Accident3 8 
Ret 23  Vitantonio Liuzzi HRT-Cosworth 46 Rear wing4 23 
Ret 25  Jérôme d'Ambrosio Virgin-Cosworth 42 Electronics 22 
Ret 21  Jarno Trulli Lotus-Renault 31 Clutch 20 
Ret 17  Sergio Pérez Sauber-Ferrari 23 Electrical 16 
Ret 11  Rubens Barrichello Williams-Cosworth 22 Hydraulics 15 
Ret 22  Narain Karthikeyan HRT-Cosworth 14 Overheating4 24 
Ret 12  Pastor Maldonado Williams-Cosworth 8 Engine 18 
Next time, get your early ticket and enjoy watching F1 race. =)
Please follow and like us: