FENICE GOLD AND DIAMONDS FIAT 500C
This Fenice Fiat 500C is priced at 500,000 EUR and is built with gold and diamonds. The original golden Fiat 500C from Fenice was unveiled last fall and received quite some interest. A wealthy Chinese person commissioned the gold and diamonds Fenice Fiat 500C, which was named La Dolce Vita Gold and Diamonds 200hp.
This Fenice Fiat 500C uses 24K gold on everything, from the instrument panel, to the dashboard and other trim parts. The interior of the Fenice Fiat 500C has been upgraded with teak inserts, special leather, and diamonds.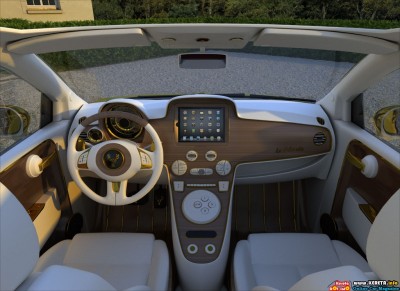 The performance of this Fenice Fiat 500C has been increased to 200 hp through a partnerships with Romeo Ferraris. The gold and diamond 500C has a new ECU, an upgraded turbo, and a new exhaust system with 200-cells catalytic converter. The Fiat 500C also has Brembo brakes and adjustable dampers.
2012 FORD FOCUS
The British journalists from Autocar have released one of the first 2012 Ford Focus review picture, as they tested the RHD version of the new generation model.
The new 2012 Ford Focus aims the have the same market success as its predecessors, which have come on top in almost all the comparison tests they were put through.
The particular 2012 Ford Focus reviewed in this picture is powered by a diesel engine. the part that's of interest is what you hear when you start the engine. With the new 2012 Focus, Ford seems to have done a wonderful job in sound proofing the cabin.
Please follow and like us: