DODGE CHARGER PURSUIT
Dodge Charger Pursuit V-8 with its legendary 5.7-liter HEMI V-8 engine unleashes 370 horsepower, 528 Nm. It can accelerate from 0-100 km/h in less than 6 seconds and comes with innovative four cylinder mode Fuel Saver Technology.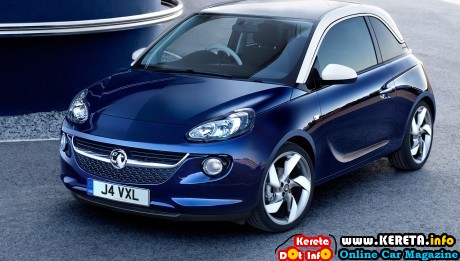 VAUXHALL ADAM
Under its bonnet the ADAM is equipped with a brand new 1.2 liter engine developing 69 horsepower, or a 1.4 liter unit that is able to develop either 86 or 99 horsepower depending on the variant. Regardless the engine, ADAM comes with a five-speed manual gearbox as a standard and the option of fitting a start-stop system for better fuel efficiency.
CATERHAM SUPERSPORT R
The Supersport R comes with a 2-liter Ford Duratec engine making 180 hp and193 Nm of torque to enhance its durability and performance. This new Caterham accelerates from 0-100 km/h in just 4.8 seconds. The top speed of the Supersport R is 209km/h.
SEAT IBIZA CUPRA
The state of the art 1.4 TSI power unit with 132 kW / 180 PS and torque of 250 Newton metres guarantee exceptionally refined performance. Power is sent via a 7-speed DSG twin-clutch automatic transmission, while a sound actuator installed in the exhaust system provides a sportier soundtrack. It accelerates from zero to 100 km/h in just 6.9 seconds and can go to a top speed of 228 km/h with average fuel consumption of just 5.9 litres/100 km.
Please follow and like us: