DETAILS AND VIDEO OF PROTON EMAS.
Proton's first of concept hybrid city cars have been officially unveiled in Geneva and they are called as the EMAS, the EMAS Country and also the EMAS3.Emas means "gold" in Bahasa Malaysia and sums up the value of this design project both to PROTON and the future of Malaysian automotive design.Besides gold it also stands for 'Eco Mobility Advance Solution'.
Proton EMAS and Proton EMAS3
The Proton EMAS is a creative collaboration with Italdesign Giugiaro and Lotus Engineering. Based on a hybrid propulsion system, the specially designed chassis also features a raised floor that can accommodate the conventional engine as well as the hybrid system's batteries in the rear. The concept car leverages on maximising space, while maintaining the overall dimensions of a compact car.
[youtube:http://www.youtube.com/watch?v=De96xfk6YIE]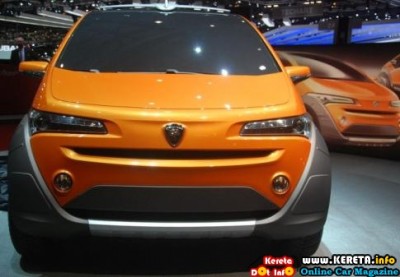 Proton EMAS Country
PROTON EMAS SPECIFICATIONS.
PROTON EMAS DIMENSIONS AND WEIGHTS.
Length (mm): 3555-3000
Height (mm): 1576
Width (mm): 1699
Wheelbase (mm): 2590-2035
Front tyres: 215/45 R18
Rear tyres: 215/45 R18
Front rims: 18″
Rear rims: 18″
Boot capacity: 320-390 litres
Proton EMAS
PROTON EMAS MECHANICAL UNITS AND PERFORMANCE.
Proton EMAS Engine
Mechanical architecture:    hybrid, seriesial, plug-in
Internal combustion engine position:front transverse
Technical specifications:    3 cylinders in line, 6 valves, 1.2 litres
Power:     51 hp / 38 kW at 3500 rpm
Maximum torque:107 Nm at 2500 rpm
Electric engine position: Rear
Power: 75 kW (peak), 45 kW (continuous)
Maximum torque: 240 Nm
Batteries:
100 X 31 Ahr Cells
370 Volts
11.47 kWh
Time for full recharge: 3 hours with normal 240 Volt, 13A power point
Acceleration 0 – 100 km/h: 14 sec
Top speed: 170 km/h (peak), 130 km/h (continuous)
Range in electric mode:50 km
Traction: Rear
One-speed gearbox: final drive ratio 4.214:1
Front & Rear suspension:McPherson & Torsion beam.
Proton EMAS3

PROTON EMAS DESIGN.
To quote Giugiaro, the Proton Emas is a brand new type of car, a new automotive concept where looks are as important as function, ergonomics and comfort, not to mention environmental impact.
The platform, specially designed by Italdesign Giugiaro for this car family, includes a raised floorpan that is able to accommodate the hybrid or electric system batteries in the centre. The raised position of the seats, all electrically adjustable, allows passengers to make the best possible use of the interior space.
The combination of these two design features makes the actions of getting into and out of the car very user-friendly, particularly at the rear. The levels of convenience are comparable only to those of a few other higher-category cars.
PROTON EMAS TECHNOLOGY.
Designed by Lotus Engineering, a subsidiary of PROTON, the drive system is a series hybrid plug-in. It includes a 3 cylinder 1.2 litre internal combustion engine developing 51 horsepower (38 kW) at 3500 rpm that can run on petrol, ethanol or methanol.
Drive is assured by an electric engine with continuous power of 45 kW and 75 kW peak power. The high maximum torque, 280 Nm at peak, does not require the use of a gearbox.
Acceleration 0-100 km/h takes place in 14 seconds, top speed is 170 km/h and battery range in the hybrid configuration is 50 km. Full recharging of the battery pack takes three hours using a traditional 220 volt power point.
PROTON EMAS INTERIOR.
The first aspect that strikes you is the door handle: an ergonomic design that incorporates a set of secondary controls that vary from place to place.
The dashboard is dominated by two TFT panels in the centre, at a concave angle. The right-hand monitor shows the speedometer and the main car operating indicators in addition to hybrid system energy flows, while the left-hand monitor shows secondary information such as screens for the hi-fi system, telephone and internet access browser plus personalised car set-up parameters.
A third display, located beneath the central console, is a touch screen that controls all the car's main and secondary functions.
PROTON EMAS EXTERIOR.
The front-end features the PROTON Shield housed in a longitudinal slot below the bonnet. This also incorporates the light clusters and is enhanced by two distinctive diamond-shaped fog lights. The engine cooling air intake, located between the fog lights, is concealed within a dark grey trapezoid motif.
The side is dominated by a belt line that drops down decisively toward the windscreen pillar to increase side visibility during parking manoeuvres. It is enlivened by a sculpted shape, enhanced by a rib that runs from the front wheel arch then swoops up toward the rear.
The large wheel arches are perhaps the most distinctive and substantial aspect of the car body; the wheelbase is generous: 2590 mm for a total length of 3550 mm. The wheels are therefore located at the end of the Proton Emas: this gives the impression of a car much bigger than it actually is.
Please follow and like us: