Expression in design and smooth lines, a product of tradition. Pioneer of the Coupe-Cabriolet, Peugeot has perfected and modernised the CC, without losing any of its rich spirits. With its lively front end panel and muscular rear, the 207 CC invites you to a new world of sensation. A unique style makes the 207 CC an exceptional vehicle.
COUPE CABRIOLET PEUGEOT 207CC FULL SPECIFICATION + PRICE + PICTURES > STYLE & SPORTY CAR
[youtube:http://www.youtube.com/watch?v=E3gjNyd6SOU 425 344]
207 CC Choice of model
Fabric, leather seat and even "all-over leather". This range offers a whole scope of looks, from the dynamic to the truly sporty, via several different interpretations of pure luxury.
207 CC All-over leather
The ultimate expression of sporting luxury, rarely seen in a small car. Consists of covering the dashboard with leather to match the seats and saddlers stitch to heightens the high-end characteristics.
207 CC Exterior Style
Expressively designed by Peugeot's style centre, the 207 CC is elegant, compact and sturdy, with a natural sportiness in both coupe and cabriolet versions.
207 CC Dashboard
It is a pleasure to sit behind the long, undulating, refined dashboard of the 207 CC which is available in leather with saddlers topstitch to match the leather, sports style seats.
Like the hatch, the 207 CC offers an array of functions which make everyday driving and travelling particularly pleasant.
207 CC Windstop
A "windstop" was developed for the cabriolet to increase passenger comfort in the front seats when driving at higher speeds..
207 CC Rigid bodywork
The 207 CC gives a sturdy performance in terms of rigidity due to structural reinforcement and specific equipment. This structure has exceptional vibration control.
207 CC Driving position
With a low, adjustable driving position, the driver will delight in driving the 207 CC all the more so when helped by the numerous driving aids
207 CC JBL hi-fi
A JBL hi-fi system, the ultimate in sound quality, is available on the 207 CC
The 207 CC combines all Peugeot's expertise in terms of road holding ability: exceptionally rigid bodywork with optimum suspension, efficient braking and superlative stability. In addition, the 207 CC has 2 new petrol engines, the result of a collaboration with the BMW Group, including a 1.6l HDi particle filter engine, as dynamic as it is economical, reducing polluting emissions.
207 CC Retractable roof
The retractable roof on the 207 CC is fully automatic. It takes approximately 25 seconds and can be retracted whilst driving up to a speed of 10km/h.
207 CC All in one!
The 207 CC is a true 2+2, with the 2 back seats providing an element of versatility. All configurations have a truly dynamic quality with a sleek elegant character.
207 CC 1.6l THP
The 1.6l bhp THP (Turbo High Pressure) engine's innovative Twin-Scroll turbocharger and valve timing system create an outstanding synthesis between performance and fuel consumption
The 207 CC has a range of very effective "bodyguards". As well as protection against front and side impacts in the form of five airbags, one of which is in the steering column, the 207 CC offers a novel service for this level in the range, a system which protects passengers in the event of overturning which consists of two removable supports with pyrotechnic triggering.
207 CC Steering & axle assemblies
The pseudo MacPherson axle assemblies at the front and flexible cross member at the rear along with electric power-assisted steering provide effective combination of comfort and safety.
207 CC Supports
The 207 CC offers a system which protects passengers in the event of overturning which consists of two removable supports with pyrotechnic triggering.
207 CC Telematics System
An RT4 colour telematics system comprising RDS radio, GSM phone and GPS with colour maps on a 7″ 16/9e screen. This system provides free and unlimited access to local assistance and emergency services.
ABS, ESP
Larger sized tyres (16 or 17″), four disc brakes and equipment such as ABS, electronic braking distribution (REF), emergency brake assist and ESP, add to the active safety features.
Width:  1750mm (without side mirrors)
1972mm (with side mirrors)
Height:  1397mm
Length:  4037mm
The Peugeot 207CC comes with the EP6 engine and develops 120hp. The 1.6L car is also equipped with Variable Valve Timing (VVT). The price of new Peugeot 207CC is sold at RM158,888 (OTR) and is one of the most affordable new coupe cabriolets available in Malaysia currently. Coupe cabriolets are actually convertibles which do not use canvas for a roof but employ a folding metal roof instead. In addition, the new 207CC is also one of the safest in its class with a full 5 star EuroNCAP crash test rating.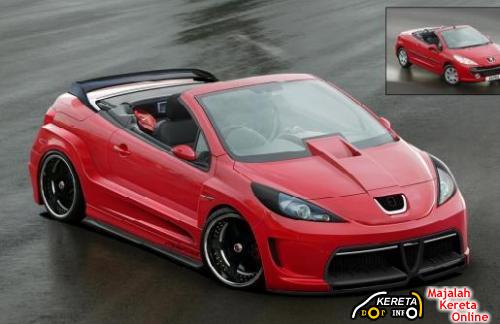 P/s: To peugeot 207cc owner, your review about 207cc here is very much appreciated.
Please follow and like us: