There are so many brand of car in Turkey specifically in Istanbul but what i realize that most numbers of car on the Istanbul road are Renault, Fiat and Volkswagen and generally European brand car then the Hyundai brand from korea most used as taxi and police car. Japanese car like Honda and Toyota not much there. The grand looking car there would be the Peugeot and Audi.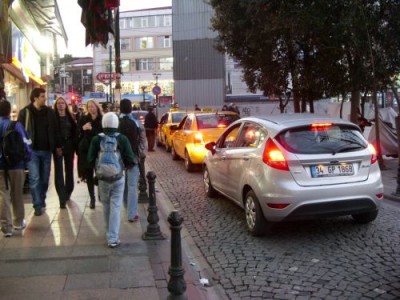 The best compact car would be Ford Fiesta and Peugeot 207 because they look like a perfect compact car design. Really like to see those car on the road.
Unfortunately, it is kind of boring to see most of the car there are really in "factory standard". No modification at all. Only taxi car have some modification on the car. I see once only a car with bodykit which is the Honda Civic. Others, no sport rims, just rim caps, no skirtings etc. Why?
Maybe because of the road condition where they like to park at the road side like above. So they cannot fit any skirtings on their car. Easy to jumpe here and there.
Police car using Hyundai Accent, Renault and Fiat model.
Honda Civic Euro which has a really nice and sporty looks. Very rare model. Only available in Europe country.
Chevrolet Cruze very attractive. Expensive car also park at the road side like this. 
The car there easily get sticked with so many dust and dirt maybe due to the environment. So there are so many dirty car there. I am just shocked to see even an expensive car like BMW also wrapped by those dirt. usually we see BMW in clean condition but there, the dirt are just like after going off road. Many of the car using diesel engine. The price of Ron95 fuel there is 2.85TL which is about RM6.55 per litre. So expensive.
The last shot i managed to snap is the taxi car just after an accident.
Please follow and like us: