CAMPRO engine is the combination name of Cam Profile engine developed by Proton with help from lotus technologies. Basically, Campro engine is just a normal engine which can be used with future latest technology like variable inlet and iafm. they claim that this engine provide more power and less fuel consumption. Recently, they have shown that what they claimed is true by winning the most fuel efficient family cars with Proton Persona.
CAMPRO ENGINE SPECIFICATION – PROTON ENGINE TECHNOLOGY ON SAGA, WAJA, SATRIA, PERSONA & GEN2
All Campro engines incorporate with drive-by-wire technology (specifically electronic throttle control) for better response,eliminating the need for friction-generating mechanical linkages and cables. There have been some issues with cracking oil pumps but apparently Proton have introduced a new part recently to solve this problem. A recall has not been announced.
CAMPRO Basic DOHC engine
The basic Campro engine coded as S4PH is a basic DOHC 16-valve 1.6 L engine that produces 110 bhp (82 kW) @ 6,000 rpm of power and 148 N·m (109 ft·lbf) of torque. This is the engine that powers the Proton Gen-2. The S4PH engine can be fitted with Cam Profile Switching (CPS) and Variable Inlet Manifold (VIM) technology. Besides this 1.6 Litre engine, Proton has produced the 1.3 Litre version of the Campro engine.
Even though the S4PH engine seems to be quite powerful at higher revs, its performance is reportedly sluggish at lower revs and this is proven by driving the Gen-2 uphill where drivers who drive the manual transmission version have to shift a lot between 2nd gear and 3rd gear. This is due to its torque dip in the crucial 2,000 ~ 3,000 rpm operating range, where the torque actually decreases before picking up back to the maximum torque at 4,000 rpm. This torque characteristic can be clearly seen in manufacturer published engine performance curves.
Another engine option for the basic DOHC engine is a 1.3L engine coded as S4PE. The S4PE engine produces 94 bhp (70 kW) @ 6,000 rpm and the torque of 120 N·m (89 ft·lbf) @ 4,000 rpm, which is more powerful than the other 1.3L rivals, even with variable valve timing technology, it also (like its bigger brother) displays a torque dip at typical engine speeds of 2,000 to 3,000 rpm.
The bore x stroke dimensions for both engines are as follows:-
S4PH (1.6L): 76 x 88 mm, resulting the displacement of 1598 cc.
S4PE (1.3L): 76 x 73.4 mm, resulting the displacement of 1332 cc.
Applications:-
2004 Proton Gen-2
2006 Proton Waja
2006 Proton Satria Neo
2007 Proton Persona
Campro CPS and VIM engine
The Campro CPS engine uses a variable valve lift system (Cam Profile Switching system) and a variable length intake manifold (VIM; not to be confused with the stand-alone IAFM used in the 2008 Proton Saga) to boost maximum power and improve the CPS engine's torque curve over the standard DOHC Campro engine.
The engine's Variable-length Intake Manifold (VIM) switches between a long intake manifold at low engine speeds and a short intake manifold at higher engine speeds. Proton is using a longer intake manifold to achieve slower air flow; as they found this promotes better mixing with fuel. The short intake manifold allows more air in faster. This is beneficial at high RPMs.
The Cam Profile Switching (CPS) system uses a trilobite camshaft to switch between two different cam profiles. One cam profile provides low valve lift, while the other cam profile has a high valve lift. The low valve lift cam profile is used at low to mid engine speeds to maintain idling quality and reduce emissions, while the high lift cam profile is used when the engine is spinning at mid to high engine speeds improve peak horsepower and torque.
VIM switches from the long to short runner at 4,800 rpm, while the CPS system switches over at 3,800 rpm. The result is 127 horsepower (96kW) at 6,500 rpm and 150Nm of torque at 4,500 rpm compared to the non-CPS Campro's 110 horsepower (82kW) at 6,000 rpm and 148Nm of torque at 4,000 rpm[2]. Proton claims that there is better response and torque at low engine speeds of between 2000 – 2500 rpm.
The new CPS engine first made its debut in the facelifted Proton GEN2 launched in Thailand, and made its first Malaysian debut in the Proton Waja Campro 1.6 Premium (CPS). Besides the 1.6L version, the Campro CPS engine is also available in 1.8L version; however, the bigger 1.8L version has not yet debuted in any of Proton's car (as on 30 April 2008) but rather made its first debut in a Malaysian-made hovercraft.
Applications:-
2008 Proton Gen-2 (H-line)
2008 Proton Waja
What Is Campro IAFM engine?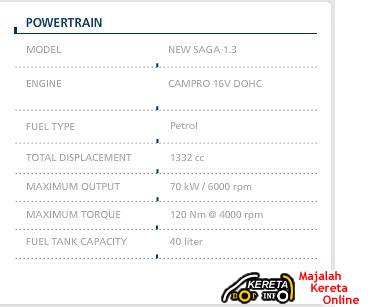 A Campro 1.3L IAFM mounted on a second generation Proton Saga.The Campro IAFM (Integrated Air-Fuel Module) is essentially a basic DOHC Campro engine equipped with a variable-length intake manifold, developed under a joint fast track programme which began in April 2005 by EPMB, Bosch and Proton. However, the IAFM differs from the VIM (Variable Inlet Manifold) for the Campro CPS engine in terms as follows:-
The IAFM is a stand-alone module that can be fitted with a basic DOHC Campro engine whereas the VIM needs to work in conjunction with the CPS system in a Campro CPS engine.
The IAFM is operated by the engine vacuum while the VIM uses an ECU-controlled solenoid.
The Integrated Air-Fuel Module for the Proton Campro engine debuted in the second-generation Proton Saga, which was launched on 18 January 2008. We first heard of it back in October 2006 where it was still in advanced tooling stages, and ever since then everyone has been eagerly awaiting for the first Campros to roll out with the new air fuel module.
With the IAFM, the 1.3L engine used in the Proton Saga now produces 98 bhp (73 kW) @ 6,500 rpm. The maximum torque is slightly reduced to 113.2 N·m (83.5 ft·lbf); however, the engine has broader torque range and the noticeable torque dip in the basic DOHC Campro engine has been eliminated. However, the official brochure is only published with the familiar 94 bhp (70 kW) @ 6,000 rpm power and 120 N-m @ 4,000 rpm torque for consistency with other 1.3L Proton models.
Meanwhile, the output of the 1.6L version of the IAFM engine which debuted in the 2008 Proton Gen-2 M-Line produces 110 bhp (82 kW) @ 6,500 rpm of power and 148 N·m (109 ft·lbf) of torque, and the torque dip around 2,500-3,500 rpm has been eliminated.
Applications:-
2008 Proton Saga
2008 Proton Gen-2 (M-line)
2008 Proton Persona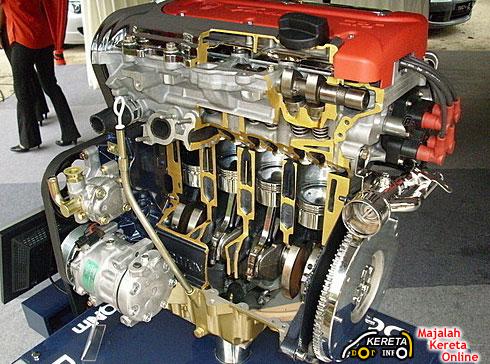 Hybrid Campro engine
In March 2007, Proton and Lotus have announced their concept model of a Proton Gen-2 powered by a hybrid powerplant that uses the Campro engine. The concept model was revealed during the 2007 Geneva Motor Show from 8 ~ 18 March 2007
The hybrid powerplant system, which is known as EVE system (Efficient, Viable, Environmental) will be using the same S4PH engine as the one that powers the present gasoline version of the Gen-2, combined together with a 30 kW, 144V electric motor. The main purpose of the hybrid powerplant system is to provide a hybrid system that can be retrofitted to existing models, retaining the same powerplant and also eliminates the need to develop a completely different platform, like the Honda Civic Hybrid. Unlike the IMA (Integrated Motor Assist) technology in the Civic Hybrid which uses a bulky Ni-MH battery pack, the EVE Hybrid system will use a Li-ion battery pack inside the engine bay.
The EVE Hybrid System will have 3 key technologies:-
"Micro-hybrid" start-stop system – An integrated starter-alternator system is installed to switch off the engine automatically when the engine stops, for example at the traffic light. The engine will automatically restart when the gas pedal is depressed.
Full parallel hybrid technology – Combines the existing S4PH engine with a 30 kW, 144V electric motor, resulting in higher power (141 bhp combined), higher torque (233 N-m combined), lower emission (up to 22% carbon dioxide reduction) and better fuel economy (up to 4.6 L/100 km[13]). The system also includes regenerative braking system.
Continuously Variable Transmission (CVT) – The CVT system provides an infinite number of gear ratios for better efficiency.
The combined power and torque for the powerplant system are as follows:-
Max power (gasoline engine only): 110 bhp (82 kW/112 PS) @ 6,000 rpm
Max torque (gasoline engine only): 148 N·m (109 ft·lbf) @ 4,000 rpm
Max power (combined): 141 bhp (105 kW/143 PS) @ 5,500 rpm
Max torque (combined): 233 N·m (172 ft·lbf) @ 1,500 rpm (limited to 180 N-m continuous)
Proton will start commercializing their upcoming hybrid vehicles equipped with the EVE Hybrid System within 2010-2011
CAMPRO ENGINE SPECIFICATION BY PROTON

 
 
Developed in partnership with Lotus Engineering, this engine grants PROTON complete vehicle design independence. Its breakthrough engine technology produces low fuel consumption, yet gives rapid, high power response, and can even be produced to run on alternative fuels.
Its represents true world class powertrain engineering, and a revolutionary step forward in engine manufacture, with low toxic emissions, low noise levels and above all, highly economical maintenance of long service intervals.
 
 
Major design objectives :   
  
 –  Space-saving transverse east-west direction engine installation
    
 –  Designed for long life of at least 10 years or 250,000 km
    
 –  Best performance in class
    
 –  Flexibility to use future technology (CPS & NGV)
    
 –  80% recyclable to meet 2005 requirements
    
 –  comply to future exhaust emission legislation requirement 
   
 
CAMPRO UNIQUE DESIGN FEATURES 
1. Modular Engine Design – Common Cylinder, Piston, Camshaft.
   
2. Design Protected for future Combustion Technology (AVT) , Performance Technology ( CDA & CPS), Low Emission (DI-NGV, Diesel.) 
   
 
CAMPRO CPS ENGINE TECHNOLOGY (CPS & VIM) 
The Campro engine utilizes two ingenious technologies to give high power and rapid response, whilst maintaining low fuel consumption. Cam Profile Switching (CPS) and Variable Intake Manifold (VIM) technology.
Together, these technologies give the best if both worlds, essentially combining the best characteristics of two different engines in one compact package. The usual reduction in peak torque caused by High Lift cams is corrected by the Long Runner. The short runner works with the high lift cams to re-tune the engine and generate more power at high speed.   
 
  
HOW CAMPRO CPS & VIM ENGINE WORKS
Engines create power from combusting a mixture of fuel and air. Valve lift creates a gap to draw air into the combustion chamber, and this gap influences the ratio of air in the mixture. Ordinary engines have fixed rate of valve lift, but Cam Profile Switching gives variable valve lift, for optimised airflow into the engine. A High Lift cam profile improves maximum power, whilst the Low profile offers fuel efficiency and low emissions.
Air is supplied to the valves by the engine's intake manifold. Variable intake Manifold technology intelligently changes the rate of "breathing" according to the engine speed. At low speed, air will drawn through the Long Runner manifold. The resulting slower air flow allows more efficient, thorough mixing of air with fuel. At high speeds, the Short Runner takes over to supply more air for combustion, faster. 
  
  
IAFM (Integrated Air Fuel Module)
The CAMPRO engine is now enhanced with a new air intake management system – the Intergrated Air Fuel Module (IAFM) technology. It helps the engine "breathe" better at offer you the best of both worlds – greater fuel efficiency at low speeds and better performance at high speeds. Be it a short one to the shops or a cross-state roadtrip, every drive will be one you'll enjoy.  
 
=======================
So there are a completely described Proton Campro Engine which is actually a basic DOHC engine that can work with latest variety of technologies. And the basic dohc engine is now better than the other VVT engine in its class such as Proton Saga VS Perodua Myvi engine which have similar engine displacement but Proton Saga engine has better performance than the VVT engine in Perodua Myvi.
Please follow and like us: