German home modifications, Brabus showcases spectacular through the Mercedes-Benz E-Class sedan that they claim as the fastest convertible 4 seats in the world and "gahar" as it gets "800hp touch.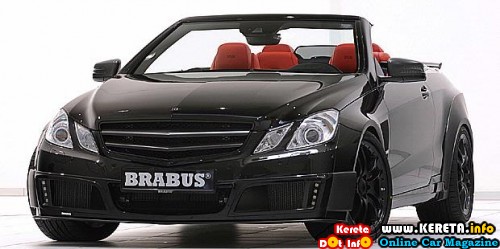 And these figures do not just identify the change, but also about the engine power 800 HP.Tremendous power thanks to the experience of the engineers in developing Brabus V12 engine from Mercedes-Benz S600 is modified in all parts of the maximum, starting from a special crankshaft, pistons made larger cylinder bore and cylinder heads to be improved to optimize the mix of sport camshafts . Plus, Biturbo system that has 4 water-to-water intercooler that declared by turbocahraged.
With a big change, the original engine capacity rose 5.5 liters to 6.3 liters. In addition to 800 HP power, maximum torque of 1420 Nm, but is electronically limited to 1100 Nm in order to have a long durability.
The maximum speed of the car 5-speed automatic transmission is estimated to reach 400 miles per hour. But, especially for kabriolet limited to 370 miles per hour. When accelerate from 0-100 miles per hour reached in 3.7 seconds, while 0-200 kph takes 9.9 seconds and 300 miles per hour 23.9 seconds.
To offset the great power, Brabus also perfected the legs. As recalibrated suspension with adjustable dampers. Included also replaced the brake system that has high performance.
Width of the car body is made more certain by the use of fiber materials karbon.Tujuannya, besides getting a lighter weight, the aerodynamic factors that change can be obtained and it has been tested in a wind tunnel. Because the body is wide, all four wheels can wear 9.5Jx19 wrapped rim tire size 265/30 ZR (front), being behind the 10-inch rims with 295/30 ZR tires.
Please follow and like us: