Bentley has decided to go green, and the fabulously white coupe you see above is how they've done it: "a muscular two-seater that delivers supercar performance and a highly focused driving experience." Sounds green so far, right? It's called the Continental Supersports, and the marque from Crewe hasn't merely pulled out all the stops… they created a few extra stops, just so they could pull them out as well.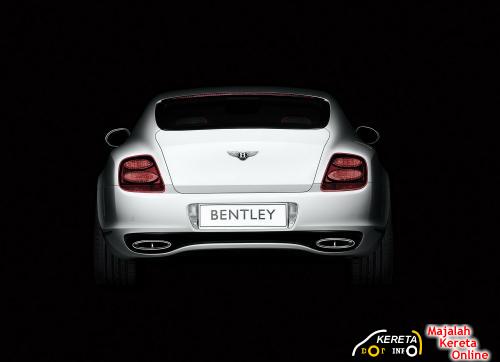 The Superports' 6.0-litre W12 twin turbocharged engine produces 621-horsepower at 6,000 rev and a massive 800Nm (590 lb/ft) of torque at 1,700-5,600 rev. The W12 is matted to a revised ZF6HP26 automatic transmission with Quickshift system that cuts shift times by 50% and enables double downshifts, helping the flex-fuel Continental accelerate from 0-60mph in 3.7 sec (0-100km/h in 3.9 sec) onto a top speed of 204mph or 329 km/h.
Extra performance isn't just achieved through ECU jiggery-pokery, though. The Supersports is a handy 110kg lighter than the Conti Speed; the project's roots were in a skunkworks project to strip weight out of the remarkably porky Continental family and the Supersports has had the full 10 Years Younger treatment.
Then there's this: The Continental Supersports will deliver that staggering performance running on the same E85 ethanol / gasoline mix you pump into a flex-fuel Chevy SUV. That's right, the fastest Bentley ever is also the first bio-fuel Bentley. So it's a tree-hugger's supercar? Well, that depends on how you track the carbon-dioxide molecules (see sidebar), although Eichhorn points out the Supersports is also 95 percent recyclable. "Not that this happens with a Bentley," he grins. "Most of our cars typically end up in museums, not landfills."
The sporting character of the Bentley Supersports is also highlighted by lightweight 20-inch, 10-spoke alloy wheels running on 275/35 ZR20 Pirelli Ultra High Performance tyres. For stopping power the car comes standard with the largest and most powerful carbon ceramic brakes fitted to a production car which shave off 20 kg (44 lb) off the car mass.
Please follow and like us: