If you are a royal family, you can get any type of custom modification by any famous tuner in the world. As for the Royal Family of Abu Dhabi, A.R.T is the one they choose. A.R.T had customised a Mercedes-Benz G55 AMG for the Royal Family of Abu Dhabi. The customised car is called AS55K YAAS EDITION and there is only one produced in the world making it a once off project.
The G55 has received a power upgrade to 620hp and some comprehensive aerodynamic enhancements.To suit the power, a high performance 380mm disc brake are combined with a 8 piston calipers up front and for the rear a perforated 345 sized disc brakes are combined with a 4 piston caliper.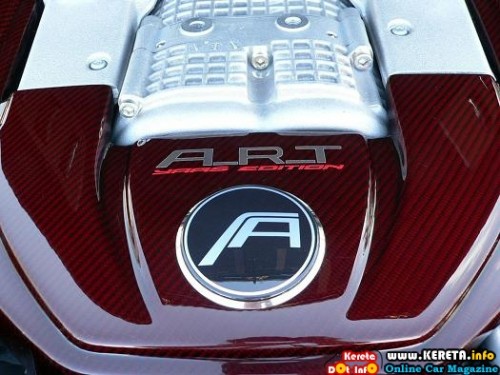 The aero kit includes carbonised surfaces such as the bonnet, the exterior side mirrors, the door handles and the spare wheel cover. Even the interior surfaces and multi-function steering wheel are covered in carbon fiber; the latter is coloured in gold. It is all just as the Royal Family had asked.
To make it look all elegant, stainless steel were used on the rear bumper, air vents and few other body elements.The tailpipes are chrome-plated and supposedly give out a sound that is hard to ignore.And to complete it all, the windows had been tinted in chrome in the same time preventing outsider to see whats inside.
The interior is finished in swathes of high quality leather and wood, supplemented by…yup, more carbon-fibre bits. A.R.T has also crafted a unique steering wheel for this car and shoehorned a customized in car entertainment system into the cabin for those long, lonely drives in the dunes.
A.R.T. has provided what can only be described as enough lighting power to make a night game at the stadium seem like an afternoon game. There are bi-xenon dual headlights, four xenon upper-beam headlights and four foglights added in a package seemingly designed not to leave the driver in the dark at any point in time
Please follow and like us: