Ferrari had unveiled the Ferrari 599XX, a more extreme track-focused version of the Prancing Horse's two-seater GT at the Geneva Motor Show. The 599XX was meant to replace the FXX.Ferrari said that they will be organizing a programme of dedicated track events for the 599XX in 2010/2011.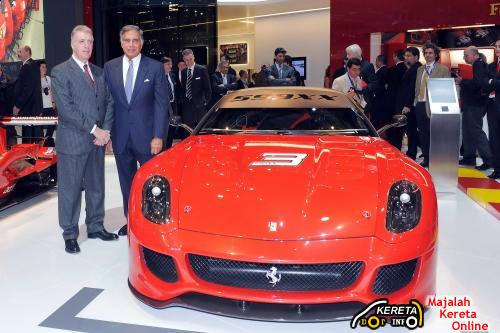 Based on the 599 GTB Fiorano, the XX uses the same transaxle layout and engine type. Ferrari tampered with the combustion chambers, the inlet and the exhaust tracts to make the car an extreme track car. Modifications made to these systems, combined with the reduction of natural attrition allows the 599XX to develop a staggering 700 horsepower at 9,000 rpm. A new gearbox shift strategy cut the overall gearchange time to 60 milliseconds to optimize
power usage.
As you can see from the photos, the 599XX features a full aerodynamic bodykit that helps produce an amazing 280 kg of downforce at 200 km/h or 125mph (630 kg at 300 km/h or 187mph) Thanks to the faired-in front underside and to the bonnet mounted air vents. The "Actiflow" system increases downforce or cuts drag, depending on the car's trim cornering conditions. Courtesy of the use of a porous material in the diffuser and two fans in the boot, the air flow is channeled from under the car out through two grilles next to the tail-lights.
And if you're wondering what all these changes sum up to, we'll just tell you that Ferrari claims that the 599XX lapped the Fiorano race track in 1 minute and 17 seconds, or 1 second faster than the Enzo-based FXX.
The Ferrari 599XX is for sale by invitation only and Ferrari refuses to disclose the price, which is rumoured to be well in excess of $2 million.
For those that aren't on the invitation list, Ferrari also has a new version of its flagship 599 GTB Fiorano, with a "Handling GT Evoluzione package" that includes lower and stiffened suspension, a louder exhaust and new wheels.
Please follow and like us: