275BHP FOR THE SPORTY AUDI Q5 SPORT SUV: TUNED BY THE GERMAN TUNER, ABT Q5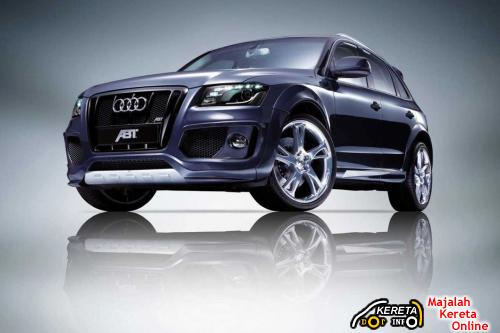 The sporty Audi Q5 SUV had become sportier.Thanks to German tuner named ABT.Previous kit from ABT had increase the power of the 2.0liter TFSI from 211 to 240 bhp. But the latest kit will make your Q5 producing 275bhp from the same 2.0 liter engine. And for the 3 liter TDI, power upgrade is available up to 310bhp and 611Nm of torque.
The pictures displayed here are the Audi Q5 with the ABT styling package.For those who wants to buy a BMW x6 will surely think twice.
Other than performance package,The new ABT Q5 had received some cosmetic changes as well. The upgrades are done to all three engine variants which begins with a 2.0-liter TDI getting a boost to 190 hp. Bigger brakes are included to keep the vehicle under control. The company's Level Control air-spring suspension kit is an available option, with lowering springs as standard.
Other exterior upgrades includes a custom built quad exhaust pipe combined with a custom muffler.A 22 inch BR alloy wheels is choosed by ABT to enhance the sportiness of the Q5.Other upgrades on the external includes a new rear wing and apron, larger front grill, new front spoiler, large fender extensions, and door trims round out.As for interior, a carbon fibre patern leather is used throughout the car.
If you're interested in purchasing an Abt Q5, you will be glad to know that the firm has sales partners in many major cities across the world. Sadly, they have no sales outlet in Malaysia.
Please follow and like us: