2010 LAMBORGHINI NAVARRA CONCEPT
It seems that many young designers from the Lamborghini race car design to create the best future. Here comes yet another proposal for a Raging Bull model, this time from American Adam Denning who happens to be a designer for Lockheed Martin USA. The Navarra is design study for a flagship Lamborghini supercar to replace the current Murcielago model.
Adam Denning plan to put all the V12 flagships of the brand from the Miura to the Murcielago and the Navarra would make use of a carbon-fiber frame and carbon-fiber panels with power coming from a V12 engine.
2010 ART CARS BMW M3 GT2
The Art Cars BMW M3 GT2 designed by American artist Jeff Koons, it is the Bavarian firm's 17th Art Car that was officially unveiled at a special event  at the Centre Pompidou in Paris, France.
It is based on the BMW M3 GT2 racer that took first place at this year's Nurburgring 24 Hours. It will compete with this unique and expressive livery at the famed 24 Hours of Le Man that runs from June 12 to 13.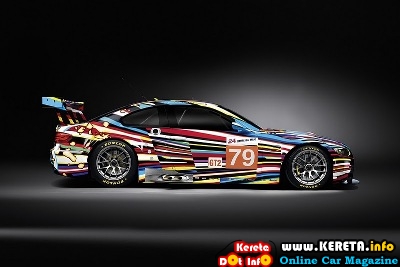 Basically, the BMW M3 GT2 makes use of a 4.0-liter V8 engine with a maximum output of 500 bhp while an upgraded chassis, racing-caliber brakes, and extensive use of lightweight materials are also part of the racing package. For the Comeback at 24hrs Le Mans, this car will be driven by Andy Priaulx, Dirk Müller and Dirk Werner.
– – – –
Please follow and like us: